Uncategorized
Dem Platform Firms Up Anti-TPP Language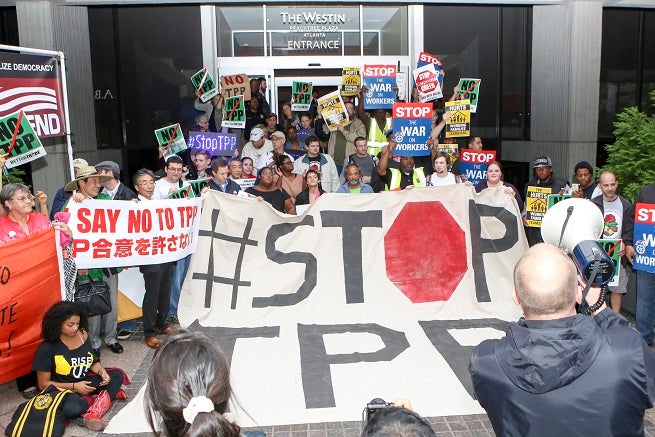 The proposed Democratic Party platform for the 2016 presidential campaign includes language that is close to an outright rejection of the controversial jobs-destroying Trans Pacific Partnership (TPP) pact, union leaders who monitored and attended platform committee hearings say.
Labor officials said the platform virtually rejects the TPP. Supporters are trying to push it through the GOP-run Congress, even during a post-election "lame duck" session this year. AFL-CIO President Richard Trumka made clear union members will hold politicians to that anti-TPP pledge. But the platform doesn't reject the TPP by name, which is what Pacific Rim trade deal opponents wanted.
An independent federal study shows the TPP, which covers the U.S. and 11 other Pacific Rim nations, would cost an estimated 128,000 U.S. factory jobs, even under the best economic circumstances, and would add little to U.S. gross domestic product.
It also would include a secret pro-business trade court, with international trade attorneys as judges that could kill any federal, state or local law that might reduce present or future corporate profits.
Teamsters General President Jim Hoffa has repeatedly noted that the TPP will only benefit the corporate class, while thousands upon thousands of everyday Americans will see their jobs either shipped overseas or have their wages and benefits cut in an effort to compete with Vietnam, which pays its workers as little as 70 cents an hour.
The panel's decision against the TPP was "a major milestone for everyone who believes in the high standard that trade should raise wages and create good jobs," added Trumka. But it would not have happened without a strong workers campaign "to put the brakes on TPP and forced a real, vibrant debate about ending corporate trade."
Some delegates still don't trust Dems on that issue, Trumka noted. "We will continue to point out TPP's fundamental flaws and mobilize to defeat it, and any trade deals that don't work for working people," he warned.
Press Associates, Inc., contributed to this report.
« Previous
Next »