Uncategorized
After The Flood: Teamsters Take Action in Louisiana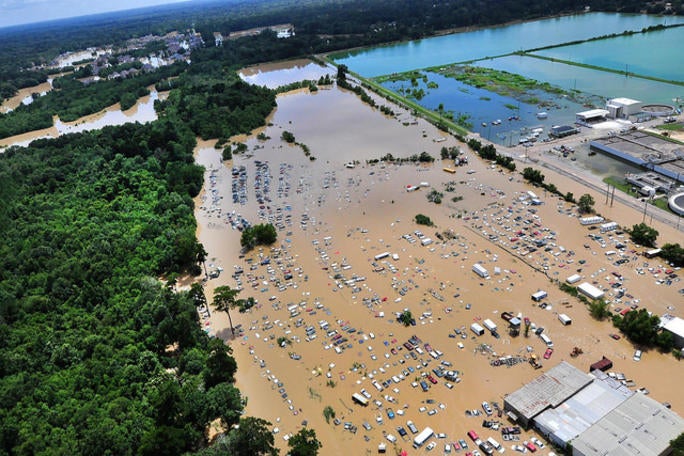 Eleven years ago today, Hurricane Katrina hit the Gulf Coast, sending a wave of destruction throughout Louisiana. Sadly, in the wake of recent flooding, the state finds itself in the face of yet another flood–and the worst natural disaster since Superstorm Sandy. Due to lack of national news coverage, it may also be the greatest national crisis since the Flint fiasco earlier this year.
Since last Tuesday, more than 40,000 homes have been damaged after heavy rains deluged southeast Louisiana. As flood waters reached unprecedented levels, Teamsters were already on the move and taking action, explains Antonio Christian, Director of the Teamsters Human Rights Commission:
The Teamsters are doing everything possible to assist all of our members in the affected communities. There is a lot of work to be done, and we need all hands on deck in the coming days and weeks to get them back on their feet.
Currently, a number of members of Locals 5, 270 and members of the BLET and BMWED, have been affected, including many who have lost their homes. Fortunately, Teamsters throughout the country are taking action to bring relief. From passing the hat and making personal donations to the Teamsters Disaster Relief Fund to actively coordinating efforts within their communities, members are working alongside their locals and Joint Councils to secure supplies for their brothers and sisters in need.
Some members have even donated their time and expertise, like Holland driver and Local 728 member Herschel Evans, who left Atlanta this morning to drive a truck full of supplies to Baton Rouge:
People in Louisiana needed help, and we have the ability to help, so we are going to help them. It's a no-brainer. Our union and our companies are standing behind us on this, and we are proud to do it. They desperately need our help down there, and this is what we do for one another in times of need.
Brother Roy Gillespie, labor liaison to the American Red Cross and member of Joint Council 13, has been on the ground for nearly a week now. He is working long hours, digging through the devastation and assisting the American Red Cross:
It's truly horrific how much damage the flooding has caused. Thousands of homes are entirely destroyed and people have been left with nothing but the clothes on their back. They need supplies to dig themselves out. We are thankful to everyone who has already donated and all of those who have given their support. There is still so much that needs to be done.
As Gillespie explains, he and Christian are actively working to secure more supplies as they monitor three approaching tropical depressions making their way toward the Gulf Coast:
We are watching the weather and working with NOAA to coordinate our logistics properly. We are planning on a convoy as early as next week, but our first concern is driver safety. The ground is extremely saturated, which means more falling trees, and if any of these natural depressions turn this way, the wind will be too strong for us to unload supplies.
In the meantime, Teamsters are encouraged to donate to the Disaster Relief Fund. There is also a list of supplies that are needed on the ground (all donations must be wrapped and put onto pallets).
If your local or Joint Council is able to assist, please contact the Disaster Relief office at the IBT at (202) 624-8982 or via e-mail: [email protected]
Click here to donate to the fund.
DONATION LIST:

Rubber gloves

Squeegees

Dust masks

Rubber gloves

Rubber boots (new)

Mops

Brooms

Dustpans

Shovels

Bleach

Lysol-type disinfectant

Dishwashing detergent

Laundry detergent

Underwear (men's, women's, and children's – new and packaged)

Socks (new and packaged)

Diapers (all sizes, including adult)

Box cutters

Bottled water

Crowbars
« Previous
Next »