Uncategorized
Boycott Schnucks: Stand with St. Louis Teamsters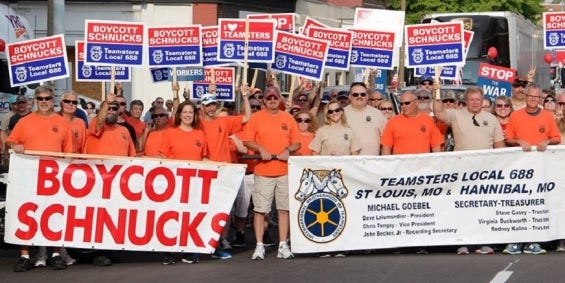 Members of Local 688 in St. Louis are in the fight of their working lives with Schnucks market chain. The long-running struggle all began in April, when the company announced it planned to outsource distribution to a non-union provider, XPO Logistics.
On July 31, Schnucks fired more than 50 Teamsters and began moving products to the new warehouse for distribution.
"I gave them all I had," Jerry Orr, a 26-year worker with a teenager at home, told the St. Louis Labor Tribune. "My body is hurting and many of the guys are broken down from years of lifting. This is the reward for those years of service?"
More firings were scheduled to take place on Aug. 21 and Sept. 11, but problems with the new, non-union warehouse proved too troublesome for the company after many stores went without fruits, vegetable and dairy products. The company reversed their decision and sent the products back to the union warehouse. All the while, the livelihoods of more than 200 Teamsters still hang in the balance.
"This is pure union-busting," said Local 688 Secretary-Treasurer Mike Goebel. "It's also had a devastating effect on the individual workers."
Fortunately, months of publicity, hand-billing and informational picketing has brought strong public support for the Local 688 members followed by an effective boycott of Schnucks stores throughout the region.
The boycott is having a major financial impact on the company's bottom line. Many stores have lost 25 percent or more of their business since the boycott began, running into the tens of millions of dollars.
"We thank everyone whose standing against Schnucks firing 231 loyal workers, most of whom have decades of loyal service to the company," said Local 688's Chief Executive Officer Mike Goebel. "Destroying lives in the name of even more profits! That's obscene."
As workers prepare to take their case to the NLRB, Teamster Local 688 continues mass picketing and boycotting at Schnuck stores throughout the region.
« Previous
Next »