Teamsters and Consumers Warn About David's Bridal's Record of Broken Vows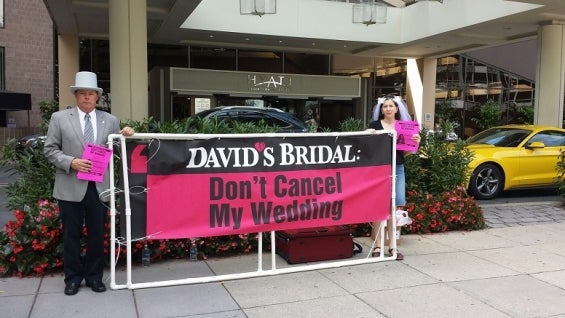 (WASHINGTON) – Brides, their families and friends attending Washington, D.C.'s Great Bridal Expo were greeted Sunday by consumer activists and Teamster representatives informing them about David's Bridal's troubling record.
At the expo, sponsored by David's Bridal, the protesters highlighted concerns that the wedding giant's worsening finances might impair its ability to deliver dresses and services to customers as promised.
Protesters held banners that read, "David Hates Brides" and "David's Bridal: Don't Cancel My Wedding." They also distributed handbills that detailed numerous concerns dogging the floundering bridal services company. The handbills also directed wedding expo attendees to a Facebook page, DavidHatesBrides, which has developed into a lively beacon informing and empowering consumers and other stakeholders harmed by the retailer.
In online reviews, customers frequently complain about David's Bridal selling used dresses as new, misplacing orders, failing to fix problems, refusing to own up to mistakes and charging customers additional fees in the process. They also complain of shoddy and expensive alterations, misleading customers about costs, failing to keep appointments and even alleged discrimination against lower-income customers. David's Bridal employees also complain about poor treatment, including having their sales commissions stolen by managers.
David's Bridal's revenues have been declining for years. Moody's Investors Service downgraded David's Bridal, citing the company's "unsustainable capital structure." David's Bridal's state of distress is now being actively monitored by Bankrupt Company News in its "Daily Bankrupt Companies Update." On August 30, 2016, Pamela Wallach stepped down abruptly as CEO, and was replaced by Paul Pressler of Clayton Dubilier & Rice (CD&R), the Wall Street investment firm that owns David's Bridal.
Should David's Bridal go bankrupt or undergo substantial restructuring, it is unclear whether it would honor all its existing commitments to brides, employees or suppliers, in America or abroad.
"Only the Wall Street financiers at the top seem to benefit. This has to change!" said Steve Vairma, Teamsters International Vice President and Warehouse Division Director. "We will continue to work with consumer activists to inform our members and the public at large about David's Bridal's major issues arising out of the predatory practices of its owner, CD&R.
"These issues come as no surprise to us, as CD&R also owns foodservice giant US Foods, which has been abusing its workers and trying to destroy their affordable health care and retirement. We need to protect our members, as workers and as consumers, from the consequences of corporate greed."
Over the past six months, more than 2,900 Teamsters have struck or honored unfair labor practice picket lines at US Foods, America's second-largest foodservice provider. The company's violations of federal labor law have jeopardized workers and interrupted service for US Foods' customers.
Founded in 1903, the International Brotherhood of Teamsters represents 1.4 million hardworking men and women throughout the United States, Canada and Puerto Rico. Visit www.teamster.org for more information. Follow us on Twitter @Teamsters and "like" us on Facebook at www.facebook.com/teamsters.
« Previous
Next »