Workers at XPO Logistics in Connecticut Choose Teamster Representation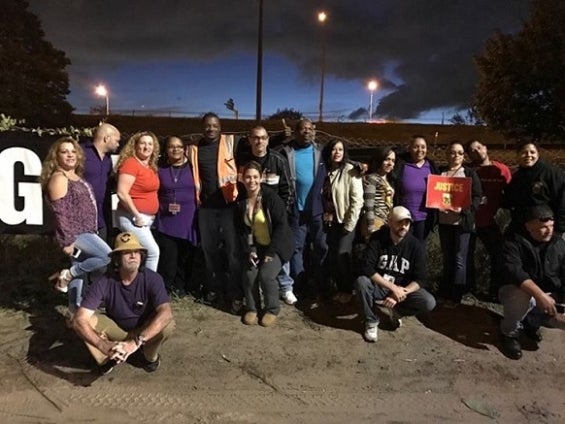 (NORTH HAVEN, Conn.) – In a historic vote, warehouse workers at XPO Logistics in North Haven, Conn. voted 72-49 for Teamster representation yesterday, becoming the first warehouse workers at the company to form a union in the United States.
"This is all about us workers standing up to this corporate bully and demanding fair wages, affordable health insurance and an end to the mistreatment," employee Ted Furman said. "XPO's CEO, Bradley Jacobs, had the audacity to come to our warehouse and tell us we don't need a union, and then he returned just a couple days before the election. Well, Mr. Jacobs, we are now proud Teamster members!"
The 127 workers join freight workers at the former Con-way Freight in Miami, Laredo, Texas and Vernon, Calif. who have already formed their union with the Teamsters. Also, freight workers in Aurora, Ill. chose Teamster representation yesterday, and XPO workers in King of Prussia, Pa. filed for an election on Oct. 11.
"The XPO warehouse workers have sent the company a message that they will no longer tolerate the poor treatment and low wages," said Steve Vairma, Director of the Teamsters Warehouse Division. "I look forward to working with XPO workers at other warehouses who are demanding drastic changes in the way XPO treats its valuable employees."
"Despite the company's anti-worker, anti-union campaign, the workers in North Haven remained strong and united," said Daniel Flanagan, Secretary-Treasurer of Local 443 in New Haven, Conn. "We will go to bat for them to win them the positive changes they deserve."
Port, freight and warehouse workers at XPO are coming together across the country in their fight for a more secure future.
Founded in 1903, the International Brotherhood of Teamsters represents 1.4 million hardworking men and women throughout the United States, Canada and Puerto Rico. For more information, please visit www.teamster.org.
« Previous
Next »