Uncategorized
Workers to Rally for Higher Wages Next Week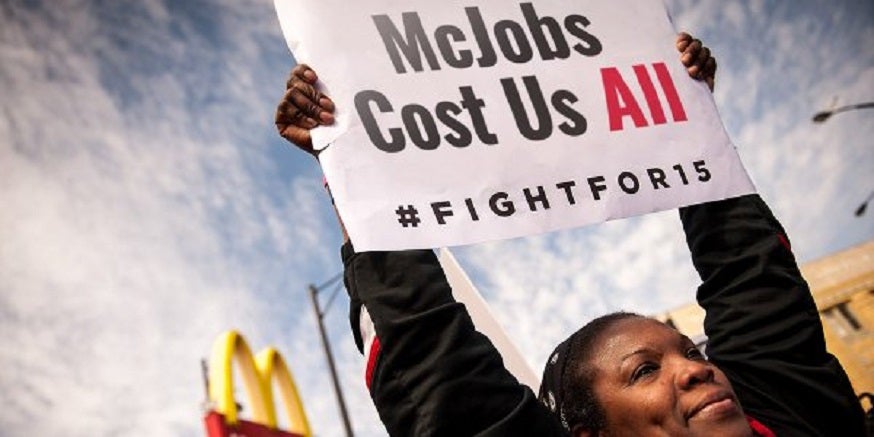 Low-wage workers aren't backing down from the fight to raise the wage floor for everyday Americans.
The Fight for $15 organization announced this week that it will hold massive protests across the country Nov. 29 to let elected officials know that workers are continuing to stand up for their right to fair wages and benefits nationwide. The demonstrations will include everyone from airport baggage handlers to fast-food cooks and home care workers.
"Americans are united around our desire for a better future for our kids and an economy that works for everyone, not just those at the top," said Betty Douglas, a McDonald's restaurant worker in St. Louis who makes just $7.90 an hour. "We won't back down until the economy is fixed for all workers and we win justice for all people in our nation."
Workers in 320 cities are expected to participate, including those at 20 airports in the U.S. They will be calling for a $15 minimum wage and union rights.
The Teamsters have long been supporters of the Fight for $15 effort, and even had members attend the group's first convention this past August in Richmond, Va. The labor movement stands with Fight for $15 because wages for all workers have not kept up with rising costs of living and increased worker productivity. The result is growing income inequality between corporate bosses and the rest of us.
To raise wages for all workers, pro-worker advocates have to start at the base. That means standing in solidarity with low-wage workers who are putting their jobs on the line for living wages in America. Whether it's workers who serve lunch to lawmakers on Capitol Hill or to you at the local fast-food restaurant, they deserve respect and dignity in the workplace.
« Previous
Next »