Uncategorized
Pursuing Different Routes to Solve Income Inequality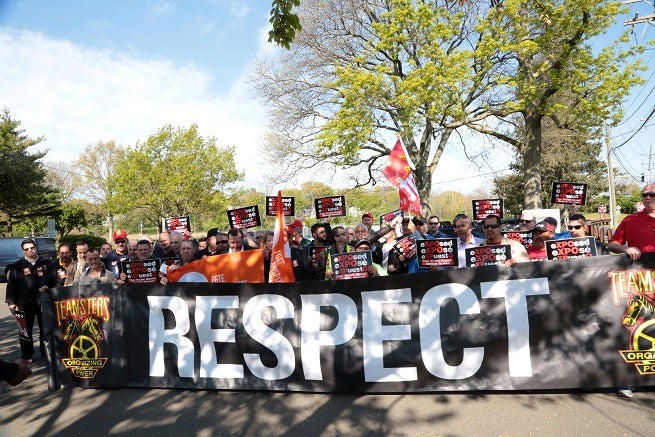 Income inequality continues to be a significant issue, even with the economic improvement that has occurred over the last few years. But many in the private sector still don't seem to get it.
Take XPO Logistics, for example. The Teamsters joined with labor leaders this week representing 15 European unions who represent XPO to challenge a plan that could give XPO CEO Bradley Jacobs a windfall stock award worth $110 million.
"We condemn this plan that could lavish Jacobs and other executives at XPO with massive stock awards that would be on the backs of workers in the United States and Europe," Teamsters General President Jim Hoffa said. "We appreciate the support of our brothers and sisters in Europe. XPO needs to invest in the workers that are making the company successful, not just its CEO."
While employees are working hard to make the business successful, the out-of-touch XPO Board is coming up with plans that could line Jacobs' pockets with millions. In the U.S., XPO workers receive lousy health care coverage that just got even more expensive and have no retirement security, while Jacobs could be in line to receive a $110 million stock award.
Some governments aren't waiting for the private sector to police themselves. Just yesterday, Portland, Ore.'s city council voted to impose a surcharge on companies whose chief executives make more than 100 times the median pay of their workers.
The city is the first to take such action in this country. The additional 10 percent in taxes will be added to the business tax bill charged for those who exceed the threshold. The tax will take effect next year, after the Securities and Exchange Commission starts to require companies to calculate and disclose a comparison between their CEO's pay and workers' median pay.
There is no one fix for income inequality. The Teamsters and other unions are raising the heat on XPO because they want the public to know about the company's unfair practices and change their ways. But as the Portland vote shows, there is a role for elected officials as well to bring fairness for all.
« Previous
Next »