Uncategorized
Congress Jeopardizes Motorists' Lives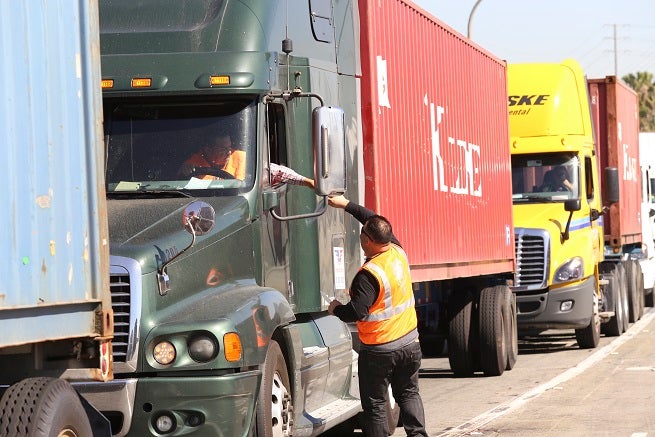 With the release of a new Department of Transportation report, Congress has finalized last steps that will make America's roadways less safe. And it couldn't come at a worse time.
The release of a document this week that would halt the implementation of hours of service (HOS) rules originally approved during the Obama administration would reduce rest break requirements for truckers. The study, rigged by the trucking industry, examined little data and runs contrary to what the Teamsters and common sense indicates – more rest by drivers spells safer behavior on the roads.
"The rollback of these rules is short-sighted and one that could jeopardize the lives of Americans traveling on the nation's thoroughfares," Teamsters General President Jim Hoffa said. "Truckers, like most of us, do their job better when they get proper rest."
That was more likely under the HOS rules originally approved in 2013 that required drivers to take two night-time breaks during a 34-hour period and only use their restart once a week. But lawmakers continued the process of pushing drivers to the limit by continuing the suspension of these rules as part of the approval of a budget continuing resolution last December.
The lack of rest is likely to negatively impact highway safety at a time when statistics find the nation's roads are increasingly dangerous. A new report by Advocates for Highway and Auto Safety stated that 35,092 people were killed in motor vehicle crashes in 2015, up 7.2 percent from the previous year. The hike represented the largest increase in roadway deaths in almost 50 years.
Meanwhile, a National Census of Fatal Occupational Injuries for 2015 found that heavy and tractor-trailer truck drivers recorded 745 fatal injuries, the most of any occupation. And work-related roadway incident fatalities were up nine percent in 2015, accounting for over one-quarter of the job-based fatal injuries that year. There were 1,264 such fatalities overall, almost half of which involved a semi, tractor-trailer or tanker truck.
Motorists deserve to feel safe on the nation's roadways as they travel each day. But it is clear from these statistics that things are going the wrong way. Many truckers will face increasingly difficult decisions when it comes to doing their jobs – driving the hours their employers want them to or doing it safely.
The federal government shouldn't be in the business of jeopardizing lives. For the good of driving public, rest breaks must not be reduced!
« Previous
Next »