Teamsters Fight Back Against UPS "Golf Cart" Bill in Kentucky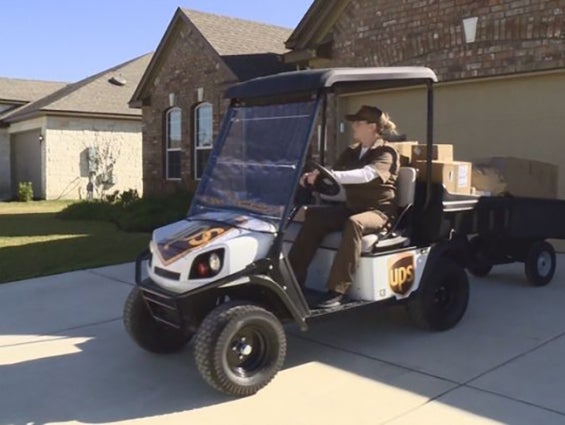 Earlier this month, the Kentucky House passed a bill that would allow UPS to deliver packages via golf carts in residential areas. House Bill 404, otherwise known as the "Golf Cart" Bill, was introduced in the Transportation Committee in February with a UPS representative on hand to testify on behalf of the measure.
"We strongly condemn HB 404 as an attack on UPS members' safety and welfare," said Fred Zuckerman, President of Teamsters Local 89. "This legislation creates a dangerous loophole that hurts UPS Teamsters and their families."
After two hours of vigorous debate and despite a number or of lawmakers sounding the alarm on the safety risks posed by HB 404, the bill was passed by the House on March 1.
While there is language in the UPS National Master Agreement that allows for the use of golf carts to deliver packages, it is intended for small communities where golf carts are a normal mode of transportation. For instance, in Florida golf carts are used for package delivery during peak season in gated communities where homeowners commonly travel on golf carts.
But in Kentucky HB 404 opens the door to UPS golf carts sharing the same roads with cars and trucks. This presents serious safety risks to drivers, as does the fact that, unlike Florida, Kentucky experiences hazardous weather conditions not suitable for golf carts.
The bill also threatens to put more of a financial burden on UPS Teamster drivers. Part-time "helpers" operating the golf carts for package delivery could be paid at rates much lower than what full-time package car drivers make.
Currently, HB 404 is in the State Senate Transportation Committee and Kentucky Teamsters are working aggressively with lawmakers in both parties to keep it from going to a vote on the Senate floor. The union is asking members and working people throughout the state to call 1-800-372-7181 and tell their representatives to vote no on the bill.
"On behalf of UPS Teamsters around the country, we stand with our brothers and sisters in Kentucky who are fighting back against this harmful bill," said Sean O'Brien, Director of the Teamsters Package Division.
« Previous
Next »