Local Official Orders Audit of Beer Distributor's Compliance With Deal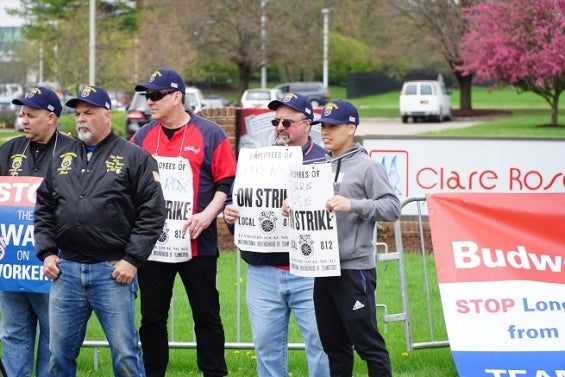 (BROOKHAVEN, N.Y.) – Brookhaven Town Supervisor Ed Romaine ordered an audit of local Budweiser distributor Clare Rose, following the company's decision to permanently replace striking workers.
"IDA benefits are supposed to benefit the residents of Brookhaven, not serve as corporate welfare," Romaine's letter to the IDA stated. "I am requesting that the IDA investigate the current employment levels at Clare Rose and take immediate action to remove these benefits if they are found to be in violation of their agreement."
Romaine also said some previously awarded subsidies could be recovered.
Striking Clare Rose workers, members of Teamsters Local 812, attended a Brookhaven IDA meeting this morning. The workers have been on strike since April 23, after Clare Rose unilaterally cut drivers' pay by 30% and ended the workers' pension. One day into the strike, Clare Rose announced that it was permanently replacing the workers.
"It's great to have an elected official like Ed Romaine who will stand up for workers when we need help the most," said Louis Chiarelli, a warehouse worker who has been at Clare Rose for 26 years. "Tax breaks for Clare Rose mean less money for our kids' schools. If they are going to take away our jobs too, they need to answer for that."
In 2009, Clare Rose entered a subsidies agreement with the Brookhaven IDA for the construction of a new facility for the beer distributor, which will reduce the company's taxes through 2030. In 2016 alone, Clare Rose's property taxes were reduced 86%, from $567,040 to $82,207.
In exchange, Clare Rose was required to maintain at least 177 jobs at the facility, a requirement that the company broke when it decided to permanently replace its union workers. If Clare Rose fails to meet those job retention requirements "at any time," the Brookhaven IDA may declare all unpaid rent and other payments immediately due and payable; terminate the company's lease; revise and increase the company's annual payments; and recapture a portion of the forgone taxes previously given to Clare Rose.
Yesterday, labor leaders sent a letter to the IDA, urging the agency to hold Clare Rose accountable. "Clare Rose has clearly violated the letter of the agreement, and it has blatantly violated the spirit," the union leaders wrote. "Every time an IDA awards property tax breaks to a company, it means less resources for our schools, roads, and other essential public services. The cost is justified with the promise of good jobs and economic development for local residents. Clare Rose's attacks on its local workers break that promise."
More and more Long Island stores and bars have run out of Clare Rose products as the strike gains momentum. Clare Rose is the sole distributor of Budweiser, Bud Lite, Heineken, Pabst, Blue Point, Greenport, and several other craft beers for Long Island. It is headquartered in East Yaphank with an additional facility in Melville.
The union negotiated with Clare Rose for months without progress before the highly-profitable company imposed huge wage and benefits cuts. The union said the strike against the company's illegal actions will last until Clare Rose executives withdraw their draconian demands and agree to a fair contract with workers.
Teamsters Local 812 represents more than 3,500 Teamster families working in the beverage industry. Its members produce, haul, deliver, merchandise, and sell soda, water, beer, and sports drinks throughout the New York metropolitan area.
« Previous
Next »