Striking Airgas Teamsters Extend Picket Lines Throughout New England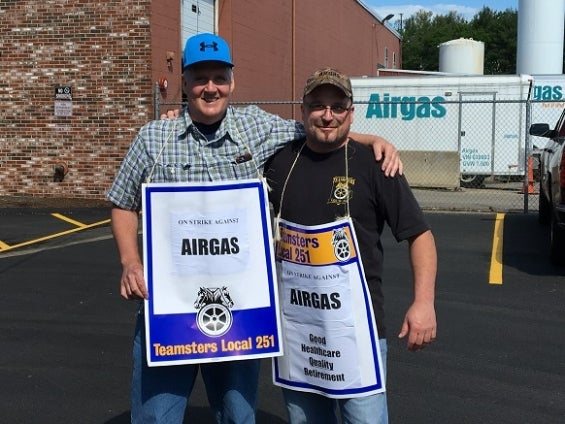 (EAST GREENWICH, R.I.) – Airgas USA employees who went on strike Tuesday extended picket lines to four additional Airgas locations yesterday and today: Hingham and Billerica, Mass.; Salem, N.H.; and Bangor, Maine. No Airgas Teamsters in those locations have crossed the extended picket lines.
The striking Teamsters are members of Local 251 in Rhode Island. They work as truck drivers and gas cylinder fillers, supplying gases to many Rhode Island hospitals as well as Veterans Administration facilities in Providence and Bristol, the Air National Guard, Naval Base Newport, Raytheon, Fuji Film and Electric Boat.
Airgas is America's largest distributor of industrial, medical and specialty gases. Airgas' parent corporation is France-based Air Liquide [EPA: AI], which is the world's largest distributor of these gases and is a Forbes Global 2000 company.
As he walked the line early this morning, Airgas shop steward Carlos Salgado said, "Our work earns huge profits for Airgas and Air Liquide. Air Liquide earned $20 billion last year, of which $2 billion was pure profit."
Salgado continued, "Like all workers, we deserve a secure retirement and high-quality, affordable healthcare. We asked for a defined benefit pension plan as well as the affordable health plan that union workers at Airgas' competitors have. Airgas refused to consider our proposals, so we are on strike – and now we have exercised our legal right to extend picket lines."
"Teamsters in New England understand solidarity and working together to ensure all workers are treated fairly and with respect," said Sean O'Brien, Teamsters International Vice President and Secretary-Treasurer of Teamsters Joint Council 10 in New England. "I'm happy to see that our other Airgas members have chosen to honor their Rhode Island brothers' picket lines."
In 2015, Airgas locked out its employees in Hingham, Mass. during contract negotiations. The workers there, members of Teamsters Local 25, extended picket lines to Airgas' other New England facilities.
"Our brothers in Rhode Island supported us in 2015 by honoring our picket line," said chief shop steward Bob Farquharson at Airgas in Hingham. "Of course we are going to support them during their strike for fair treatment. We aren't going to cross their picket line."
Jeffery Padellaro, Secretary-Treasurer of Teamsters Local 633 in New Hampshire, said, "Airgas has a pattern in New England of being abusive to workers. We will continue to stick together to stand up for each other."
Brett Miller, Principal Officer of Teamsters Local 340 in Maine, said, "I'm proud that our members are also honoring their Rhode Island brothers' picket lines. That's what solidarity is all about."
On May 9, Airgas sent a letter to employees that violates federal labor law, which bans companies from negotiating directly with workers about their union contract. Local 251 filed an unfair labor practice charge with the National Labor Relations Board.
"It is outrageous that Airgas decided to violate federal labor law that's meant to protect workers' rights," said Matthew Taibi, Secretary-Treasurer of Local 251.
Taibi continued, "It's disheartening to have to go out on strike to send the company a wake-up call. But the silver lining is the strong support that Teamster locals and members are giving us across the entire region."
« Previous
Next »