Teamsters Protest Vistar Foodservice at 'Wonder Woman' Movie Premiere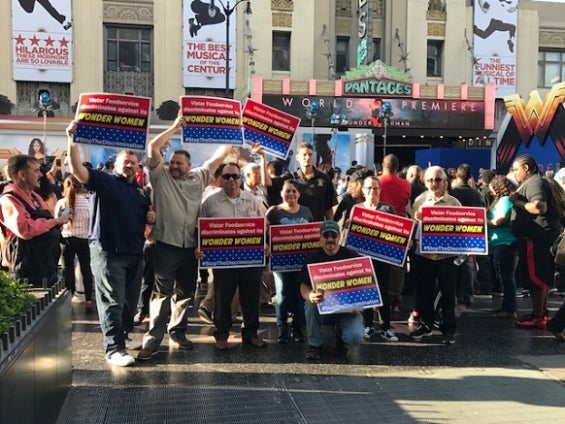 (HOLLYWOOD, Calif.) – Teamster members who work at Vistar Foodservice's distribution facility in City of Industry, Calif. protested outside the world premiere of the film "Wonder Woman" last week.
The 85 drivers and warehouse workers at Vistar, a division of Performance Food Group, are represented by Teamsters Local 630. The workers are currently in negotiations for their very first contract at Vistar.
Outside the premiere, the workers held signs and distributed leaflets that said "Stop The Discrimination." One major issue is that Vistar places women in the lowest-paying warehouse jobs, where they earn less than $13 per hour and some earn minimum wage.

Vistar delivers food to many movie theater chains across Southern California, including Edwards, Regal and AMC Theatres.
"I want a union contract because we get placed into lesser-paying positions while doing much of the same work. I feel that Vistar has favoritism," said Rebecca Hernandez, a nine-year Vistar employee.
"The workers voted for their union in 2014 but have been unable to get Vistar to agree to a contract that is fair and respects the work they do," said Lou Villalvazo, Secretary-Treasurer of Local 630. "They are paid less than industry-standard wages — and it's a shame that in 2017 we are struggling to get a company to address a pay structure that is unfair to women."
Villavazo continued, "Vistar will earn plenty of money from movie theater chains showing 'Wonder Woman' this summer, like Regal and AMC. Meanwhile, the loyal employees who do the hard work are being underpaid for the work they perform every day."
« Previous
Next »