Uncategorized
Teamsters Talk Policy at Political Coordinators Meeting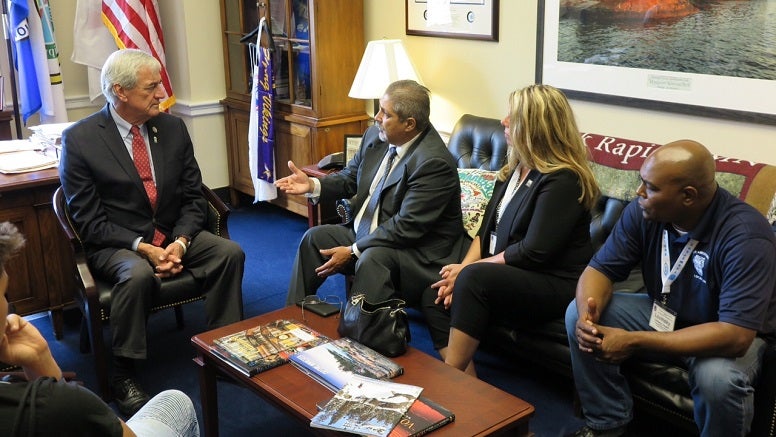 Teamster officials joined several lawmakers this week in outlining a legislative agenda through 2018 that will prioritize workers by fighting for better pensions and protecting collective bargaining while also taking a leading role to ensure that a new NAFTA keeps good-paying jobs in the U.S.
Upwards of 100 Teamster political coordinators from around the nation attended the union's Election 2017 Political & Legislative Coordinators Meeting on Capitol Hill. Despite the losses that occurred at the ballot box last November, speakers said there is still room to maneuver on key measures that would empower both Teamster workers and retirees.
One of the top issues discussed was pushing backing back on a national right-to-work (RTW) bill. Senate Minority Leader Chuck Schumer (D-N.Y.) and House Minority Leader Nancy Pelosi (D-Calif.) both told Teamsters it was a top priority of theirs to make sure so-called RTW doesn't progress in Congress.
"I have union in my blood. We all know the middle class is declining," Schumer said. "As long as I'm a leader in the Senate, they will not pass a national right-to-work law."
Pelosi added, "The labor movement our country must not only survive, it must grow. We have to not only resist, but push back."
The issue of NAFTA also was prominent during the conference. Rep. Peter DeFazio (D-Ore.) said it is essential that any new version of the trade deal must remove cross-border trucking language that allows unsafe and polluting Mexican-domiciled trucks onto U.S. roadways.
"They don't have hours of service rules, they don't have drug testing," he said. "What we had before works. It's worked for many, many years."
He added that if the administration is really interested in revamping NAFTA, it will need to reach out to those across the aisle to get a new trade deal implemented. "I don't know where they are going to go with it, but we are going to keep pushing them," he said. "If they want to get this done, they are going to have to approve some of our ideas."
Political coordinators also spent some of their time at the conference visiting their lawmakers on Capitol Hill to press them to support a pro-worker legislative agenda that included pension reform, collective bargaining rights and fair trade.
Edward Reynoso, Joint Council 32's Political Director, stressed that message in meetings he and other Minnesota Teamsters had with many in the state's congressional delegation, including former Teamster Rep. Rick Nolan (D-Minn.).
"It is critically important that lawmakers hear from the constituents themselves, to get the pulse from their congressional district and state," he said. "When it comes to the issues, they need to hear from the local people."
« Previous
Next »