Teamsters, XPO Workers Demand Answers Outside XPO CEO Bradley Jacobs' Speech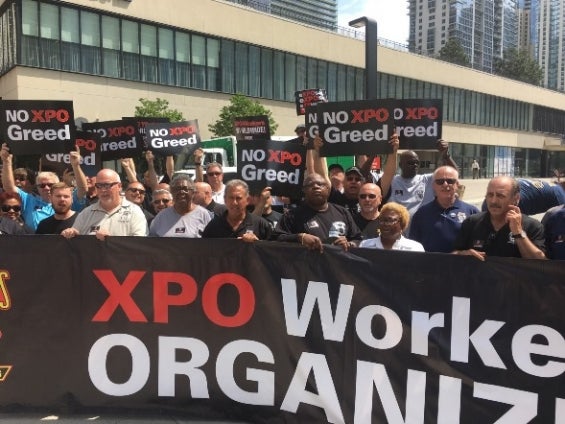 (CHICAGO) – More than 100 Teamsters and supporters gathered to raise questions and demand answers to serious concerns about their employer XPO Logistics outside the 3PL & Supply Chain Summit today where XPO Logistics CEO Bradley Jacobs was speaking. Representatives of workers who have chosen the Teamsters demanded that Jacobs respond to workers' concerns about sustainability of the company, mistreatment, pay disparity, company mismanagement and many other issues.
"While Jacobs received $20 million mega-equity, got approval for a $110 million stock-bonus plan and has received a 481-percent bump in pay in recent years, workers are denied affordable health care, have no retirement security and the company is stomping on their federally protected rights to form their union," said Ernie Soehl, Director of the Teamsters National Freight Division. "Workers have demanded a meeting with Jacobs, which is why Teamsters are here today, but Jacobs continues to refuse to meet over serious issues with workers."
Jacobs is hosting an event at the summit and workers and representatives want real answers to serious questions. Freight workers at six XPO locations and warehouse workers at one location have formed their union with the Teamsters despite the company spending hundreds of thousands of dollars on $3,000-a-day union busters. At the ports, XPO continues to misclassify port and rail drivers, which results in massive wage theft. In response, courts have awarded drivers in the millions of dollars, with no end in sight.
XPO is ramping up its anti-worker, anti-union tactics by illegally firing three freight drivers at their terminal outside Trenton, N.J. XPO shareholders recently rebuked Jacobs when a near-majority of outside shareholders opposed his "say-on-pay" measure. Workers want to know what the XPO end game is – will Jacobs sell as he has other companies?
XPO workers worldwide, the Teamsters and European unions, as well as the courts and lenders are coming together to expose XPO and Jacobs as the exemplars of corporate greed in the U.S.
Founded in 1903, the International Brotherhood of Teamsters represents 1.4 million hardworking men and women throughout the United States, Canada and Puerto Rico. Visit www.teamster.org for more information. Follow us on Twitter @Teamsters and "like" us on Facebook at www.facebook.com/teamsters.
« Previous
Next »