Union Warns Against Driverless Trucks Hauling Hazardous Material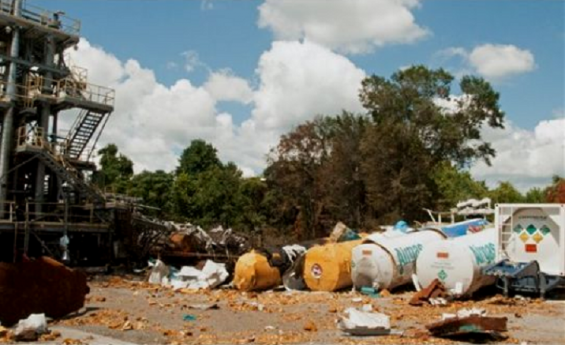 (EAST GREENWICH, R.I.) – Hazardous material drivers and gas cylinder fillers who work at Airgas here have been negotiating a new contract since the current agreement expired in February. After continued bargaining and several contract extensions, the workers went on strike May 31.
The workers, represented by Teamsters Local 251, are concerned about their families' health care and a secure retirement. Additionally, Airgas' proposed contract language would allow the company to operate driverless trucks transporting dangerous materials through our communities and on America's highways.
"Airgas has been demanding contract language nationally that would allow the company to operate driverless vehicles. They have failed to take into consideration the potential dangers of the cargo or the fact that it could jeopardize the safety of the public if an accident were to occur," said Sean M. O'Brien, Teamsters International Vice President and Secretary-Treasurer of Teamsters Joint Council 10 New England.
"Teamsters are the safest and most experienced drivers in the country," he added. "We want to alert the public of the risks that corporations like Airgas are willing to take at the expense of working people."
Airgas is America's largest distributor of industrial, medical and specialty gases. Airgas' parent company, Air Liquide [EPA: AI], is based in France, and is the world's largest distributor of industrial, medical and specialty gases and technology.
"Airgas trucks transport flammable material such as propane, methane, hydrogen, acetylene and oxygen, as well as poisonous gases such as carbon monoxide, chlorine, sulfur dioxide and ammonia. If a tank or cylinder ruptures in an accident, people can die just from inhaling these gases," said Matthew Taibi, Secretary-Treasurer of Local 251. "We were shocked in negotiations when the company proposed language that could potentially allow them to use autonomous vehicles."
In 2016, an Airgas plant in Cantonment, Fla. had a deadly explosion of nitrous oxide that killed a plant worker. OSHA fined Airgas for failing to use safeguards that would have prevented such an explosion.
"Since 2010 Airgas and Air Liquide have been fined more than $330,000 for safety and environmental violations. This is in addition to Airgas Doral's $7 million combined criminal fine and restitution when its hazmat violations resulted in the deaths of three stevedores," said Keith Gleason, Teamsters' Tank Haul Division Director.
"With that safety record, Teamsters are opposed to the prospect of Airgas using autonomous vehicles to haul hazardous material on America's highways," he added. "This poses a major threat to Homeland Security. If these 'driverless bombs' are controlled by GPS, satellite computers or other technology, it stands to reason that these driverless trucks could be rerouted and controlled by terrorists."
« Previous
Next »