Local 107 Teamsters Set Philly Concrete Pour Record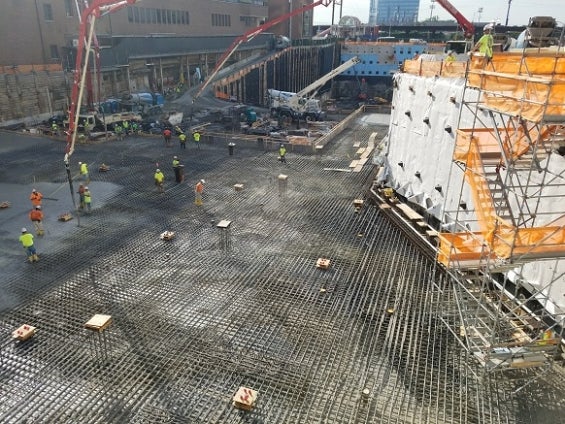 Local 107 Ready Mix Teamsters from four different companies participated over the weekend in the largest continuous concrete pour in Philadelphia history, part of the $5 billion Penn First development that will bring a new hospital facility to the City of Brotherly Love.
Shawn Dougherty, Local 107's Secretary-Treasurer, said Teamsters with Action Concrete, SJA Concrete, Devault/Castor Materials and JPC spent upwards of 12 hours transporting 6,800 yards of concrete to the worksite at 34th Street and Civic Center Boulevard. It took 72 Teamster drivers about 680 truck trips to do so.
Completion of the record-setting concrete pour was an act of redemption for the union. "Five years ago we broke the record," Dougherty said. "Last year, this scab outfit came in and topped it. Now we got it back."
The lead Teamster employer on the job, owner Ernie Forlini from Action Concrete, was extremely proud of his union drivers and the three other Teamster employers he called upon to help on this project. "Our union guys delivered approximately 1,000 more yards than the last record, and completed the job in 12 hours, which was approximately 18 hours less than it took that last record holder," he said.
Philadelphia's construction boom in recent years has fueled the building of such mega-projects. And it has kept Teamster members and workers with other unions busy. Ed Shaw, the agent for Local 107 construction, estimated the Penn First project will create as many as 400 construction jobs.
« Previous
Next »