New York-Area UNFI Drivers Win First Teamsters Contract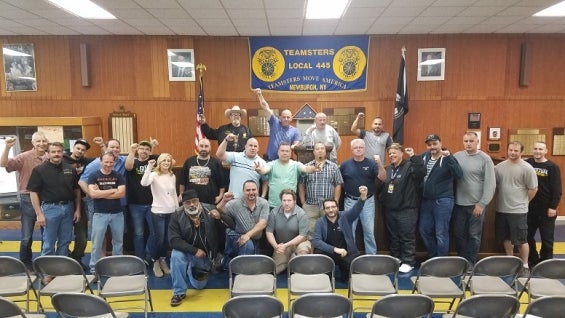 (MONTGOMERY, N.Y.) – Drivers who deliver groceries for United Natural Foods, Inc. (NASDAQ:UNFI) in Montgomery ratified their first-ever Teamster contract this weekend. The contract guarantees overtime pay after 40 hours worked in a week, yearly pay raises, protections against unfair discipline, among many other improvements demanded by the drivers.
"The overtime pay was the big thing for us," said John Cruz, a three-year UNFI driver. "We work long hours and deserve to be paid extra for the time we miss with our families. We hope UNFI institutes overtime pay for all drivers — but without a contract, management can still play games. UNFI drivers and warehouse workers are realizing the best way to protect themselves is to organize with the Teamsters, and we're building our power across America right now!"
The Montgomery drivers voted to be represented by Teamsters Local 445 in July 2016. Throughout the past year, Local 445 led drivers in a campaign for a fair first contract. Drivers signed petitions, participated in contract negotiations and made direct demands on management.
"These drivers remained united and put in the work necessary to win overtime pay and all the protections that come with a union contract," said Barry Russell, Secretary-Treasurer of Teamsters Local 445 in Rock Tavern, N.Y.
Local 445 also engaged the community in a campaign to protect local working standards. When UNFI built its new distribution center in Montgomery, the company promised to create good jobs in exchange for $17.6 million in local and state tax subsidies. Members of the community want to make sure UNFI's presence as an employer in the area works to protect, not undermine, local working standards that the community has fought for and won over generations.
The contract for UNFI drivers in New York will provide much-needed stability following Amazon's (NASDAQ:AMZN) announced purchase of Whole Foods Market (NASDAQ:WFM), UNFI's largest customer and strategic partner.
"A union contract with Teamster representation is the only way to protect yourself if you're a UNFI employee, especially with the consolidation we're seeing in the industry at the moment," said Steve Vairma, Director of the International Brotherhood of Teamsters Warehouse Division. "We're seeing UNFI employees all over the country realize the value of being union and that's why you're seeing this wave of victories. When workers organize, follow the lead of their local union and engage the community, they can win some pretty amazing things as we've seen in the past few years at UNFI."
The New York drivers' victory comes in the wake of victories for workers at UNFI all over the country. In June, UNFI warehouse workers and drivers in the Seattle area ratified a new contract that included a pension for the first time. In May, warehouse workers in Southern California (Moreno Valley) voted to be represented by Teamsters Local 166. Drivers in Dayville, Conn. represented by Teamsters Local 493, and drivers in Moreno Valley, California represented by Teamsters Local 63, ratified new contracts within the last year and a half. UNFI Teamsters in Iowa (Local 238) and New Jersey (Local 810) are negotiating new contracts this year as well.
« Previous
Next »