Uncategorized
Mo. Fight Against RTW is a Win for Workers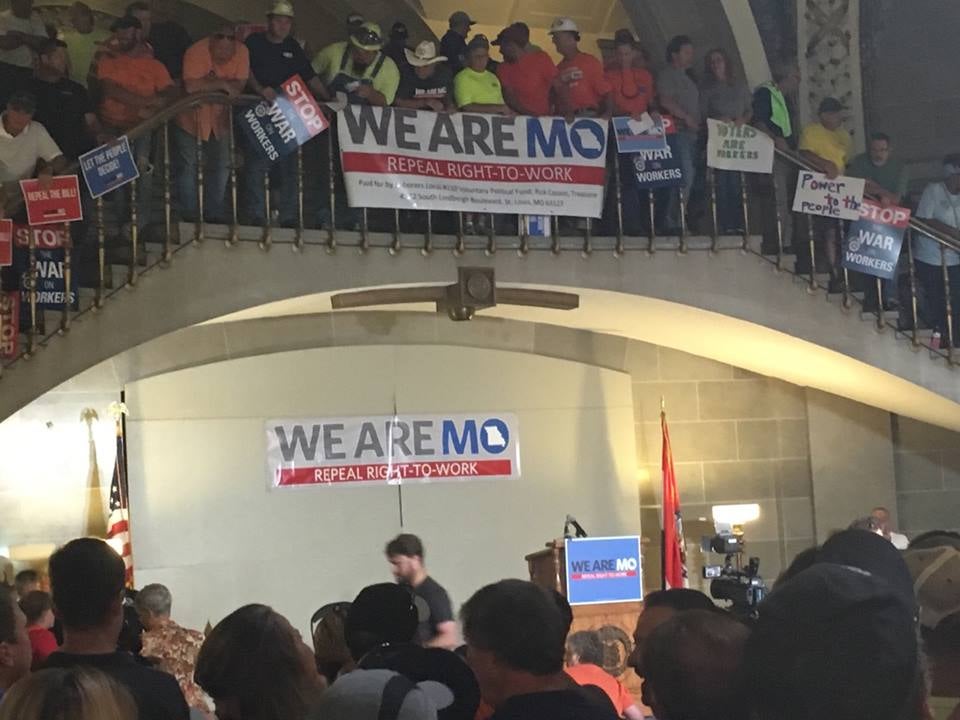 Unions in Missouri were angered earlier this year when newly elected Gov. Eric Greitens signed into law legislation that would have made the "Show Me" state the 28th to institute "right to work is wrong" legislation. But they didn't give up.
The Teamsters joined with the labor allies in the last few months to gather signatures to force a citizens' vote on whether to enact the law. And late last week, they showed up at the state Capitol with some 310,000 of them, more than three times the amount needed to force a November 2018 referendum on whether RTW should become law.
"The Teamsters Union was proud to participate in today's action in Jefferson City and stand ready to continue the fight against right-to-work laws," Teamsters General President Jim Hoffa said last Friday. "These laws do nothing to grow the middle class or improve the lives of workers. The only goal of right-to-work laws is to enrich corporations at the expense of workers."
Teamsters and fellow unions representing workers throughout Missouri fought for several years against right to work as it was repeatedly introduced in the Legislature. Their vocal opposition to the passage of right to work resulted in former Gov. Jay Nixon vetoing the legislation in 2015.
There is no good reason for workers to support such an anti-union measure. RTW states have a higher poverty rate than those in ones that support collective bargaining. In fact, nine of the 10 highest poverty states are RTW. That, in part, is attributable to lower salaries and benefits. Those with no rights at work make almost $1,500 a year less. They are also less likely to receive employer-based health insurance or pensions as well.
Taking away the rights of hardworking Americans to collectively bargain is not the answer. Working people want the freedom to join together and negotiate for a fair day's work for a fair day's pay. And the more money workers have to spend, the more products they buy, creating more jobs and better wages for all workers.
Big business says RTW is good for the American economy. But many of these same companies have offshored jobs and helped rig the rules, pushing U.S. wages down and placing the health and safety of workers at risk. Don't be fooled by their false promises, these corporations are just looking for more ways to line their pockets with profits.
For too many, the American Dream is slipping away. But hundreds of thousands of Missourians put their foot down and said "Enough!" when they signed this petition against the RTW law. They knew it was a ruse. But the fight continues.
« Previous
Next »