XPO Workers Demand Fairness, Respect at XPO Logistics' Terminals Nationwide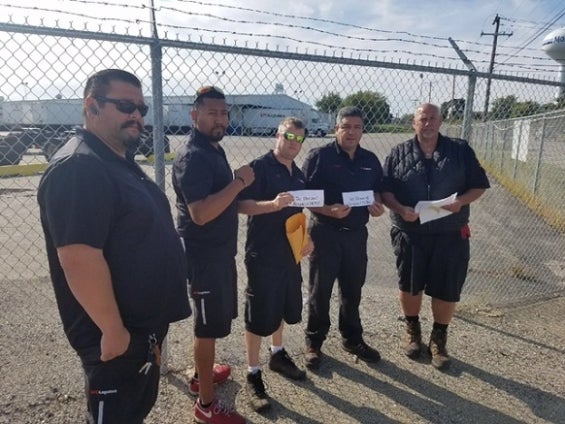 (WASHINGTON) – Workers at multiple locations across the nation today "marched on their bosses," delivering a clear message to management and demands that XPO Logistics, Inc. bargain their contracts in good faith without delays. They also want the company to respect the rights of its workers to organize and form a union without intimidation or harassment.
"As Americans get ready to celebrate Labor Day, the XPO workers' actions today remind us that the long, hard struggle for workers' rights is far from over," Teamsters General President Jim Hoffa said. "XPO continues to be the poster child of corporate greed, spending hundreds of thousands of dollars on union busters while outsourcing and eliminating jobs and cutting workers' benefits. At the same time, CEO Bradley Jacobs continues to enrich himself with a huge stock bonus and a 481 percent wage increase while workers continue to be squeezed."
"The workers who took part in today's actions recently voted to form their union as Teamsters and they are standing up to XPO's anti-worker, anti-union tactics," said Ernie Soehl, Director of the Teamsters National Freight Division. "Our campaign continues to gain momentum as XPO profits on the backs of its workers."
XPO workers worldwide are standing up and coming together to expose XPO and Jacobs as the exemplars of corporate greed in the U.S. This Labor Day, freight, warehouse and port workers in the U.S. are joining together with XPO coworkers around the globe to show XPO Logistics and CEO Jacobs that the company's anti-union, anti-worker stance will not be tolerated.
Founded in 1903, the International Brotherhood of Teamsters represents 1.4 million hardworking men and women throughout the United States, Canada and Puerto Rico. Visit www.teamster.org for more information. Follow us on Twitter @Teamsters and "like" us on Facebook at www.facebook.com/teamsters.
« Previous
Next »