APP Teamsters Vote Unanimously in Favor of Strike Action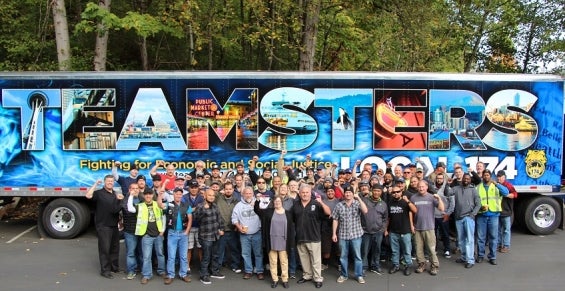 This Sunday, Teamsters from APP/World Fuel Services showed the incredible power of solidarity as they voted unanimously in favor of a strike action at their employer. The group of almost 90 fuel truck drivers have been fighting for a first contract for nearly a year, and this strike authorization vote was an important next step in that battle.
The APP drivers voted to join Teamsters Local 174 in November of last year. Since then, even without a contract, the group has seen firsthand the power of union representation on the job, as Local 174 Senior Business Agent and Western Region Tankhaul Director David Jacobsen has successfully fought back against every unjust termination the company has attempted in the past year. These newly-minted Teamsters were also able to support their Teamster Brothers and Sisters in the sand and gravel industry by refusing to cross the picket lines during the CalPortland strike in August.
"Even without a contract, we are Teamsters through and through," said APP employee and Bargaining Committee member Antonio Anaya.
Negotiations between Local 174 and the multinational fuel delivery company APP/World Fuel Services have been ongoing for nearly a year now, and had been progressing smoothly and amicably for the first several months. However, as the one-year anniversary of the group's decision to become Teamsters approached and more contentious and controversial issues were brought to the table for discussion, negotiations began to stall out.
"Negotiations have dragged on since January and it is almost a year since we were certified," said Local 174 Director of Bargaining Patty Warren. "Our patience is running thin and it's time to get this done. Local 174 doesn't stop fighting until we get a great contract for our members, and we hope that this unanimous strike authorization vote sends APP management a message."
A strike by APP drivers would wreak havoc on the local economy, as these drivers deliver 25% of the fuel to our geographic area – including many employers of Local 174 members, such as the sand and gravel companies and the sanitation companies. Without regular fuel deliveries, many of these companies' operations would be paralyzed.
"Driving a fuel tanker truck is an extremely dangerous undertaking that requires incredible skill and experience to perform safely," said Local 174 Senior Business Agent David Jacobsen. "These drivers not only have skills that make them unique, but also incredibly strict licensing requirements – they need a Class A CDL with HAZMAT endorsement, a TWIC card, as well as specialty training to load out of several refineries in Washington State including U.S Oil, Shell, Conoco Phillips, Targa, and Tesoro. For APP/World Fuel Services to find replacement workers in the event of a strike would be extremely difficult."
There are many issues still up for debate at the negotiations table, including protections for seniority and issues related to overtime. Economic issues, including health and welfare as well as pensions, have barely been discussed.
"It would be in everyone's best interest for this contract to be resolved at the negotiating table rather than through a strike, but if a strike is what it takes to get our members what they deserve, then a strike is what APP will get," said Teamsters Local 174 Secretary-Treasurer Rick Hicks. "These workers have an incredible set of skills that their employer needs to start recognizing. They have been mistreated and underpaid for far too long. It is time to get serious about getting a contract for these drivers, and we hope that this unanimous strike authorization vote will get APP management's attention."
As for the members themselves, they are growing weary of waiting for a contract – but they have not grown even remotely weary of being Teamsters. "We still think that voting to join the Teamsters was one of the best things we ever did for our careers," said APP driver and Bargaining Committee member Tony Inglett. "If this company thinks we are just going to lose interest in fighting for our rights on the job, they are crazy. We are even more committed to being Teamsters now than we were a year ago!"
Armed with the 100% strike authorization, Local 174 and APP will meet again on October 19 and 20 to continue negotiations, hopefully reaching a deal without the need for a strike.
"If it's going to take a strike to get APP to take us seriously, then we are ready," Inglett said. "We're Teamsters now, and Teamsters don't go out lying down."
Founded in 1909, Teamsters Local 174 represents 7,200 working men and women in the Seattle area. "Like" us on Facebook at www.facebook.com/TeamstersLocal174.
« Previous
Next »