Hurricane Maria's Aftermath: Wednesday, October 11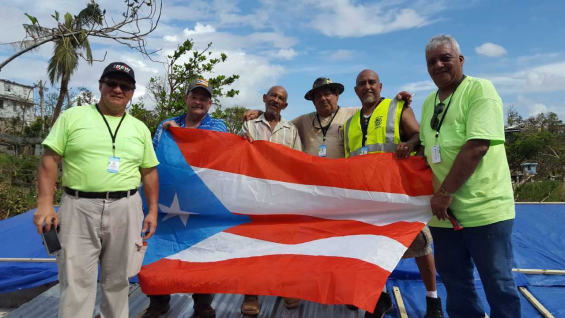 The tragedies brought by Hurricane Maria didn't end after the storm. On Monday and Tuesday, disaster relief workers in Puerto Rico had to deal with a new challenge: mudslides that emerged following new rainfall on the island. No Teamster volunteers were hurt, but the situation illustrates how the forces of nature don't stop wreaking havoc just because a storm has ended.
The mudslides further complicate relief efforts, leaving even more roads blocked off and making it even more difficult for the convoys of Teamster drivers to get supplies to the communities that desperately need them. Fortunately, the Teamsters Disaster Relief program is working diligently with the Red Cross, FEMA, non-profits and local government agencies to clear and repair roads so the distribution of emergency supplies can function as efficiently as possible. Beyond delivering supplies, Teamsters Disaster Relief has stepped up in a number of other roles: driving dump trucks, working as excavators, putting tarps on the homes of residents, clearing debris, and doing whatever it is that they are asked to do.
"We don't need an audience, we're not here to sing kumbaya, we're here to work," said Local 282 member Pedro Maldonado. "I'm a mule. Just point me in the right direction and I'll do whatever it is that I need to do to get the job done."
Donate to Teamsters Disaster Relief today! https://tdr.teamster.org/
« Previous
Next »