Driving Up Standards to Save Lives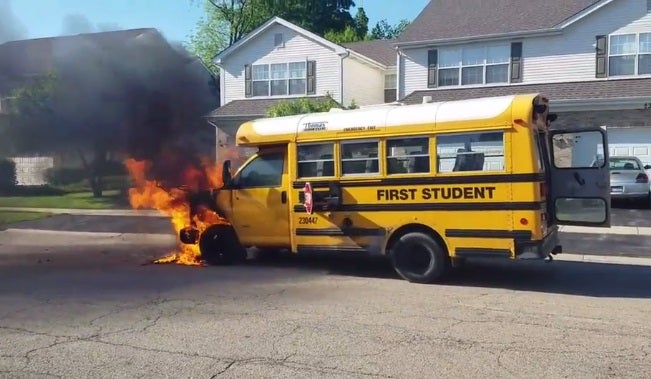 Local 179 members Monica Lally and Joyce Marfell make a great team when it comes to transporting students in Chicago's western suburb. As a driver and monitor employed by First Student, the nation's largest private school bus contractor, their normal day consists of taking students to and from school. But on May 22, 2017, the day became anything but normal.
While on their way to Patterson Elementary School, smoke started to pour out of the engine. Lally immediately pulled the bus over to the side of the road.
"I radioed to the yard to make sure they knew about the situation. The smoke started and quickly grew, and then it turned black," Lally said. "I turned to Joyce, and I said 'it's time to evacuate.'"
Marfell sprang into action, rapidly getting the seatbelts off students. Shortly after the students were off the bus and on the curb, the engine caught on fire and the bus was engulfed in flames.
Through contract negotiations, political action and member education, the Teamsters have been pushing for more than 10 years to ensure that a union bus is a safer bus.
Organizing Around Workplace Hazards
"The desire for a safer workplace seems to be one of the first things that come up whenever we talk to workers about joining our union," said Rick Middleton, Director of the Passenger Transportation Division.
In an industry that continues to increase privatization, passenger transportation is becoming more about profit than quality. It's no surprise, then, that in unorganized operations, workers often report that their safety concerns fall on deaf ears. Without a union to answer to, management can easily ignore concerns raised by their employees.
Concerns range from unsafe equipment like bad brakes or bald tires to unsafe conditions like overcrowding or even health hazards like mold on their buses. Workers will report these issues to management, but too many times, drivers are told to operate the bus regardless of their concerns. Despite laws that bar unsafe vehicles from being on the road, drivers in unorganized yards fear for their jobs if they refuse to drive the bus.
During union organizing campaigns, workers are educated and empowered to stand up for their rights and demand safe conditions for themselves and their passengers. That is why over 50,000 workers in the industry have chosen to become Teamsters.
Mike Lowen has been a mechanic at a Durham School Services bus yard in Metropolis, Ill. for eight years. He has experienced how easy it is for unsafe buses to be out on the roads because management doesn't quickly address safety concerns. That is a big reason why Lowen and his co-workers mounted an effort to organize with Local 50.
"The company always says 'safety is job number one;' but what they don't say is 'unless it's not in the budget,'" Lowen said. "Through our organizing efforts with the Teamsters, we got the parents involved, and then the school board listens, and that's when the company finally listens."
After a hard-fought campaign, Lowen and his co-workers won union recognition on August 24, 2017.
Better Buses Through Better Contracts
The drive for safer buses begins with organizing and continues in bargaining. The Teamsters have negotiated industry-leading contracts, demanding the highest safety standards possible. The Teamsters believe that collaboration between the union and the employer is the key to safety. On a national level, the Teamsters have negotiated a master agreement with First Student that makes safety a national issue and includes protections for members against retribution if they file a whistleblower claim.
Teamster contracts include a number of provisions geared toward improving and maintaining safety standards: mandated equipment upgrades, proper training and the right of refusal for drivers to drive an unsafe vehicle. Many Teamster contracts also include provisions for safety committees, which are made up of workers at a yard that regularly meet to address safety issues.
"I'm extremely grateful for the protections that come with my union membership," said Phyllis Pepper, a Local 777 steward and bus monitor with First Student. "Every time we take a bus off the yard we're taking the lives of children into our hands. Without a Teamster contract, I could be put in a position where I have to choose between keeping my job and putting my kids in a dangerous situation. That's a choice that nobody should have to make."
Improving Standards by Improving Public Policy
The Teamsters' fight for the safest possible buses doesn't stop at the yard. The union has been fighting and winning on tougher legislation to increase safety standards as well.
Teamsters in Illinois were instrumental in the introduction and passage of HB 4029, otherwise known as Illinois' "responsible procurement" law. Prior to this law, school districts were required to hire the lowest bidder on a contractor, regardless of a company's safety record or treatment of its workers. Since then, the Teamsters Union has worked with parents and community groups to inform state and local officials of their past experience with bus companies and influenced school district to opt for a higher bidder in order to ensure safe buses.
In North Carolina, Local 391 has made school bus safety a major legislative focus. They supported Senate Bill 55, legislation signed by Gov. Roy Cooper in July that substantially increases fines for motorists who pass stopped school buses with lights on.
The top priority for increasing school bus safety in the state, however, is addressing the shortage of drivers.
"The shortage of bus drivers in North Carolina means that on routes, more stops are being moved from smaller, residential streets to major thoroughfares," said Local 391 Recording-Secretary Rachel Eitzen.
To address this problem, Local 391 has worked with school boards across the state to get legislation passed that commissions a study by the Department of Public Instruction. The study will look at the impact of worker compensation on the challenge of recruiting and retaining bus drivers.
Companies throughout North America that cut corners on safety will eventually be forced to face the consequences of their actions. The Teamsters are committed to being the loudest and strongest voices in the fight to make sure every player in the industry is operating at the highest standards.
« Previous
Next »