Uncategorized
Workers are Big Winners in This Election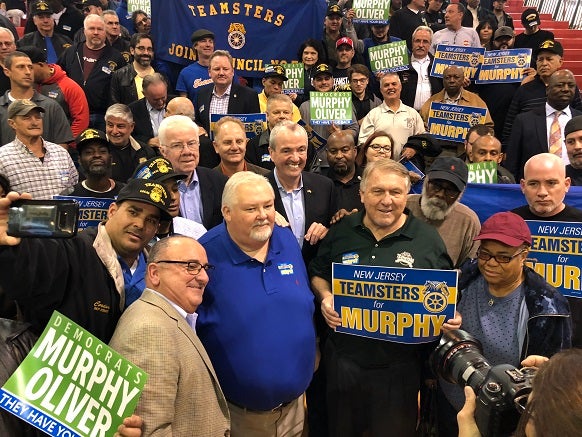 Workers last night were the big winners in elections across country, as voters vented their anger against proposals pushed by Republicans in Congress and across the states in the last year that rewarded big business at the expense of hardworking Americans.
Democrats registered big victories in Virginia and New Jersey, while also prevailing in a special election race in Washington State that throws control of the state Senate to the party. And there were scores of other local elections that went the way of working people who have increasingly found their concerns shunted to the side by lawmakers.
The premier race of the night was in Virginia, where Teamster-endorsed Lt. Gov. Ralph Northam (D) won a promotion to the governor's mansion by beating back GOP insider Ed Gillespie by nearly nine percentage points. That victory fueled other wins up-and-down the ballot in the Old Dominion, as Justin Fairfax (D) and Mark Herring (D), both backed by the Teamsters, won their races for lieutenant governor and attorney general, respectively. Democrats also won a slew of seats in the lower chamber of the General Assembly, including three Teamster-endorsed candidates, and have a chance of taking control of the House pending a handful of recounts.
In the lead up to the election, Northam took a stance in favor of a $15 minimum wage. He also prioritized increased access to apprenticeships and job training as well, paid family leave, equal pay and the expansion of Medicaid to cover health insurance costs for more Virginians.
Meanwhile, in New Jersey, Teamster-endorsed Democrat Phil Murphy handily defeated Lt. Gov. Kim Guadagno (R). Murphy ran a strong pro-union campaign that called on increased support for working people and beefing up state pensions. He also called for a $15 an hour minimum wage.
Democrats also added to the supermajorities in the Legislature, adding one seat in the state Senate and two in the state House. In the Senate, Teamster-backed Democratic challengers Troy Singleton and Vin Gopal both won their races.
State elections weren't the only big victories registered. In fact, Teamsters themselves weighed into electoral politics and succeeded. In Washington State, for instance, nine Teamsters won local elections:
· Anne Backstrom, Silver Lake Water and Sewer District
· Kelly Frazier, Mason Fire Protection District 11 Commissioner
· Michelle Gehring, Orting City Council
· Leonard Kelley, Mayor of Stanwood
· Dana Ralph, Mayor of Kent
· John Resha, Lake Forest Park City Council
· Carla Shannon, Lewis County Clerk
· Stephanie Shook, Edgewood City Council
· Shanna Styron Sherrell, Mayor of Milton
Making change happens means getting involved in the process and supporting candidates who back policies that help working families. Tuesday's results show what can happen when workers shows up at the polls. That's a model they need to follow every year.
« Previous
Next »