Uncategorized
What MLK Means to Teamsters, Yesterday and Today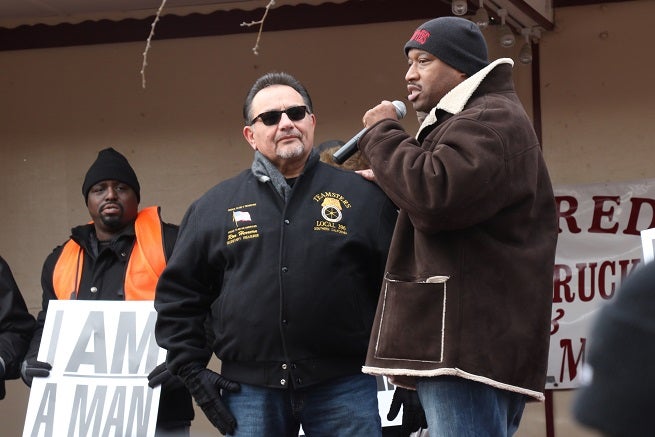 The Teamsters have a long history with Memphis sanitation workers, going back to the final days in the life of the Rev. Martin Luther King Jr., who turned out in April 1968 to march in solidarity on their behalf in their fight for fair wages.
Earlier this week, union leadership returned the favor, participating in the annual Martin Luther King Day march in Memphis. Led by Teamsters Solid Waste and Recycling Division Director Ron Herrera and Local 667 President James Jones, a large contingent of Teamsters joined with others to honor the contributions of the civil rights icon in a march that terminated on the grounds of the former Lorraine Motel, where King was assassinated on April 4, 1968.
The fight for justice, however, cannot end there, Herrera said. "Let's not stop at the Lorraine Motel," he stated. "Let's continue our march to these greedy corporations. Let's continue our march to your city council, your state government. And let's take it to Washington, D.C."
But even as this nation gets ready to mark the sad occasion of the 50th anniversary of Dr. King's death, the fight for fair wages and working conditions for waste workers in the city and elsewhere isn't over. Local 667 represents a group of Republic Waste workers working under an expired contract while their employer seeks to gut wages and benefits. Jones said the struggle continues.
"These men right now are fighting 50 years later for the contract he fought for," said Jones, who is the new organizer of the city's MLK march. "This year, we are up for a contract again, and the company is up to the same tricks it was 50 years ago. We want to make sure the community understands what we are doing here."
Herrera, meanwhile, also represents workers from Republic working on an expired contract at Local 396, where he is Secretary-Treasurer. He came to the march, in part, to show some solidarity on behalf of his members. "We're are going to coordinate Los Angeles and Memphis, Tennessee because that's what Dr. King wanted us to do," he said.
In 2016, two former Memphis waste workers in the 1968 march came to the 29th International Convention to tell their stories about how they and the Teamsters stood together in an effort to bring dignity and respect to the workplace. Fifty years ago, they wore "I Am A Man" placards, the same ones worn earlier this week.
One of those gentlemen, Alvin Turner, died last September. But the lessons he shared with thousands of union brothers and sisters that day still resonate. The Teamsters will continue the fight for justice in Memphis going forward. That's how this union will honor of memory of Dr. King beyond just one important holiday a year.

« Previous
Next »