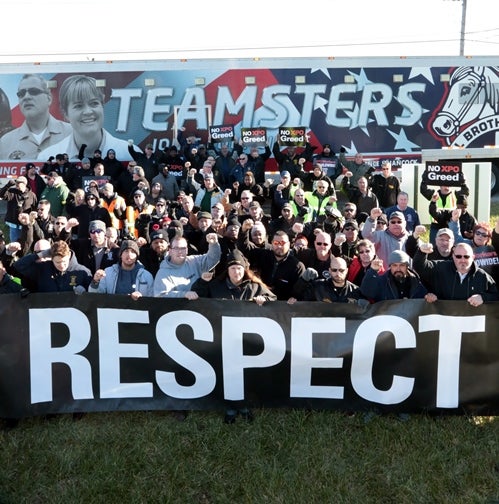 The terminal manager at the XPO facility in Aurora, Ill. was most likely expecting Thursday, November 30 to be just another day. He wasn't expecting that he'd have to face down a march on the boss.
XPO had refused to negotiate with the union in Aurora even though the company was court-ordered to do so multiple times.
Now, the terminal manager was facing an angry mob of more than 40 Teamsters crammed in his small office. All of them were demanding that he call Bradley Jacobs, the company's CEO, to set a date for collective bargaining.
"No date, no peace!" the crowd chanted. Tony Seminary, an organizer for Local 179, stepped forward from the group.
"You're the shop manager, get on the phone, call Bradley Jacobs, tell him we want a date for negotiations!" Seminary said. "Your company is violating the law. What are you going to do about this? Do you care about these employees?"
The terminal manager sighed. Today was not going to be his day.
When Teamsters Fight, Teamsters Win
Chicago has always been a logistics hub and, in the modern era, the city has a higher concentration of freight-logistics jobs than any major metro area in the country.
So when the Teamsters Union chose a target for an organizing blitz geared toward increasing membership in the logistics industry, they knew exactly which city to hold it in. Local 777 and Joint Council 25 worked in partnership with the Teamsters Union, directing the efforts on the ground.
"We've had about 60 organizers using our office as a base," said Jim Glimco, President of Local 777. "Some of the best organizers from the International Union are out here doing house calls, job actions and marches on the boss. It's really great. The whole idea is to empower the workers to stand up for themselves, and that's what we're trying to do—give them a voice."
The goal of the blitz was to assist local unions with winning their campaigns at XPO, intermodal companies, and private school bus contractors throughout Chicagoland.
eXPOsing the Worst Actor in Logistics
The Teamsters Union is working with freight, warehouse and port employees at XPO Logistics worldwide to expose the truth about the company's global greed, illegal wage theft, unsafe conditions, and abhorrent and vicious anti-worker, anti-union tactics. The blitz was a huge part of this campaign.
XPO's greed includes mistreating former Con-way freight workers in the United States who are being kept in the dark about terminal closures and layoffs, and the company's illegal refusal to bargain contracts and denying workers' federally protected right to organize. It also includes port, rail and last-mile drivers around the country and in Southern California fighting wage theft in excess of $200 million because they are misclassified as independent contractors and denied the right to form their union. This greed has caused numerous lawsuits and strikes.
Greed also means an unsafe workplace and mistreating their warehouse employees.
The Teamsters Freight, Port and Warehouse divisions are working closely with Joint Councils and local unions to help organize workers. Already, workers at six XPO freight terminals have formed their union, as well as warehouse workers at a location in Connecticut. Over the course of the blitz, Teamster organizers visited every XPO warehouse and freight barn in Chicagoland multiple times. They also did house visits to unorganized workers, spending hours on the road driving from city to city talking to workers.
Jose Ramirez participated in the march on the boss at the Aurora facility. He's been a driver at the Aurora facility for more than eight years.
"What we have here is horrible," Ramirez said. "The insurance is garbage, there's no respect, there's discrimination and favoritism. We want everybody to be fair, and the only way to do that is to get the Teamsters in here."
Unsurprisingly, he was disappointed to see his employer drag their feet when it came to negotiating.
"The labor board had to take them to the circuit court to make them follow the law," Ramirez said. "It's pretty sad, being that they're such a huge company. It's frustrating, but I'm telling you as a driver in Aurora that we're still strong. We're not going anywhere, and we're going to keep fighting until we get a contract."
James Plimmer has been working at the XPO Elgin facility for over four years. He said that the conditions at his terminal make retention difficult for the company.
"We've had eight guys leave this past year because they retired or quit. Why haven't they replaced them? I don't know, I can't answer for stupid," Plimmer said. "When XPO took over, one of the biggest changes I noticed was work volume, the more-with-less attitude. It's not an option to go home, you're stuck there until it's done or they terminate you. If you don't want to work 14 hours a day, you might as well quit, because they'll fire you if you don't."
Plimmer was a Teamster before, and he said he joined the organizing campaign at his facility because he knows the difference that a union contract could bring to his job. He didn't mince words when asked about Jacobs.
"You ever see that movie Wall Street? He reminds me of Gordon Gekko," Plimmer said. "It's all about money. As long as he eats, he doesn't care if anyone else does. Our equipment doesn't get repaired, we're short on equipment, our forklifts are falling apart, yet the tonnage keeps going up. He gives me the impression that he's just squeezing the company for everything he can get out of it, and later on he'll dump XPO and walk away."
Building Power with Chicago Intermodal
Intermodal is integral to logistics, and by organizing these workers, the Teamsters are securing a key leverage point in the broader effort to organize core industries. Teamsters already represented workers at all but four of the intermodal yards in Chicagoland at the beginning of the blitz. By the end of it, there were only three left.
Paul Garza was a crane operator at ITS ConGlobal in Harvey, Ill. Management found out that he had been a Teamster activist at another yard where he worked and he was later terminated.
"When you have a strong union man in there that's knowledgeable about his rights, it scares them," Garza said. "When I got fired, though, it really upset the guys. It backfired pretty badly."
Garza continued to stay involved in the organizing campaign after he was fired, though, and he was there when the NLRB counted the votes for the election at his yard. The vote was 100 to 23. Garza now works for the Teamsters, and pretty soon he'll be sitting across from his former employer at the bargaining table.
"It'll be interesting when they see me," Garza said. "My biggest thing on unions is education—you have to educate yourself. Look at what rights you have. We're very uneducated on our labor rights these days, and that's why people are afraid to go out there and organize. Once people know they can go out there and organize, they will."
The long hours and difficult conversations that were a hallmark of the Chicago blitz demonstrated that the fight to organize workers in core industries will be an uphill battle. Organizing is a steep mountain to climb when employers don't fight back, and over the course of a week in Chicago, Teamsters were embarking on organizing drives at some of the most anti-union locations in America.
The good news is that Chicago is and always has been a union town, and with Teamster power, it's a journey that can and will end in victory.
« Previous
Next »