Swissport Ramp Agents Join Local 120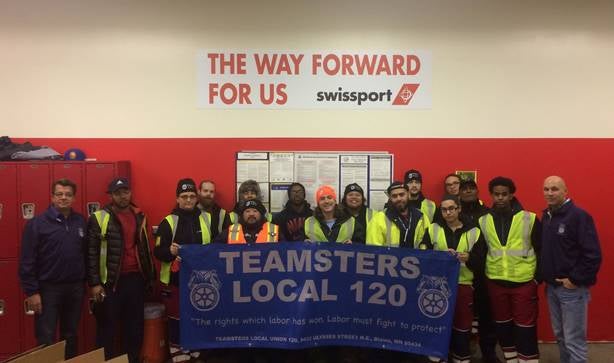 After only a four-month campaign, ramp agents working for Swissport voted to become members of Local 120 on Oct. 25, 2017. The 114 ramp agents, who are responsible for handling baggage, join Swissport aircraft fuelers that are already represented by the union at the Minneapolis-St. Paul International Airport.
"Congratulations to everyone who worked hard to fight for union representation at Swissport," said Tom Erickson, President of Local 120. "We're looking forward to negotiating a fair and equitable contract."
Wages, health care, turnover and safety were the main issues workers cited as their reasons for joining Local 120—issues they hope to see improved by negotiating a strong collective bargaining agreement. Despite the desire to join the union, the organizing committee faced an uphill battle.
Management hung up an anti-Teamster poster in the break room and held anti-union meetings. Furthermore, the restricted nature of the airport tarmac made it difficult for organizers to access the workplace. The committee adapted. Aircraft fuelers, who worked the same hours and had the same access, played a key role in persuading their co-workers to join.
Committee members used a program that allowed them to use their smartphones to get their co-workers to sign union cards digitally. Eventually, Local 120 obtained a permit to access the airport, and a number of volunteer organizers from US Foods reached out to the ramp agents to tell them what to expect from management after they had filed for an election.
"Our members from US Foods experienced a campaign where they faced many of the same challenges in terms of an anti-union campaign, and they ended up with a positive outcome," said Lovinsky Ricard, a Local 120 organizer.
« Previous
Next »