Teamsters Local 653 Members Ratify Strong Agreements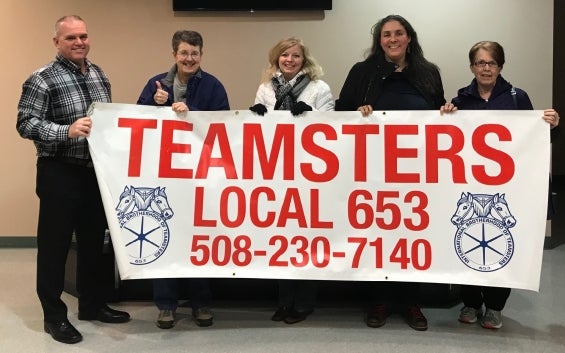 (SOUTH EASTON, Mass.) –– Teamsters Local 653 members in Massachusetts who work at West Bridgewater Public Library, Raynham Center Water District and Liberty Bakery Kitchen have ratified three strong first-time agreements containing wage and working condition improvements.
Workers with Liberty Bakery Kitchen unanimously ratified an agreement including holidays, pay raises, overtime pay and up to five weeks of vacation. The 100 Teamsters bake and deliver doughnuts to over 150 Dunkin' Donuts locations. The bakery workers will benefit from provisions in the contract that provide for uniforms, cleaning supplies and the regulation of temperatures in the normally hot bakery facility. Prior to this agreement, most workers were earning minimum wage with no vacation and one holiday a year.
The seven librarians at the West Bridgewater Public Library gained wage increases, strong job security language and maintenance of health care benefits.
The nine Raynham Water Department workers, including administrative staff and staff who maintain the quality of water and test hydrants in the town, also ratified an agreement that includes wage increases and job protections.
"This was a great team effort to negotiate two public sector agreements and one private sector contract to improve the lives of our members," said Brian McElhinney, Secretary-Treasurer of Local 653. "We're proud of each of these groups, including Liberty Bakery Kitchen members who worked for years to organize, so it's gratifying to see them get a life-changing contract."
« Previous
Next »