Hoffa Announces Teamsters Endorsement of Gretchen Whitmer for MIchigan Governor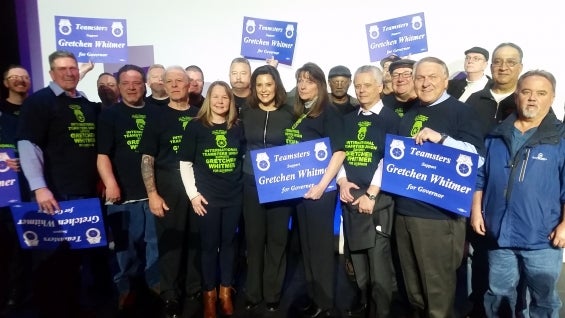 (DETROIT) – Today, Teamsters General President Jim Hoffa joined Teamsters Joint Council 43 President Greg Nowak in announcing the union's endorsement of Gretchen Whitmer for governor of Michigan. The announcement was made at an event in downtown Detroit attended by Teamsters and community members.
"We're proud to endorse Gretchen Whitmer for governor of Michigan," Hoffa said. "She's the right candidate because she will fight for working families, prioritize creating good jobs and work hard to lead our state forward."
"Over the last eight years costs have gone up and our fellow Michiganders are working two or three jobs to make ends meet. The labor movement built the middle class and we need a candidate who will stand with workers. We are here today to endorse that candidate," Nowak said.
Whitmer has stood with working people to pass a higher minimum wage and defend collective bargaining rights. Whitmer is fighting to protect prevailing wage, and is committed to growing the state's economy, creating jobs and repairing crumbling infrastructure.
"I'm honored to have the support of the hardworking men and women of the International Brotherhood of Teamsters because they took on the tough fights to build the middle class in this country," Whitmer said. "Michigan workers and our families deserve a governor who will help them get ahead."
Teamsters Joint Council 43 covers the entire state of Michigan with 12 local unions representing over 65,000 Teamsters.
Founded in 1903, the International Brotherhood of Teamsters represents 1.4 million hardworking men and women throughout the United States, Canada and Puerto Rico. Visit www.teamster.org for more information. Follow us on Twitter @Teamsters and "like" us on Facebook at www.facebook.com/teamsters.
« Previous
Next »