Uncategorized
Illinois Teamsters Help Power Candidates to Victory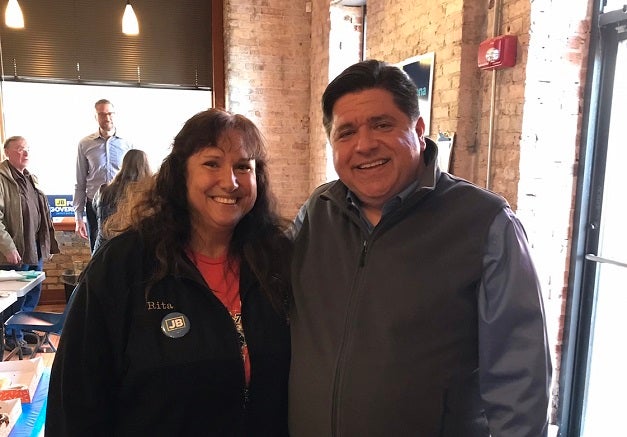 Teamsters again flexed their muscles to help propel candidates backed by the union to victory this week.
Joint Council 25-endorsed candidates emerged as winners in 12 congressional primaries and the gubernatorial primary on Tuesday, ensuring that the concerns of workers will be heard as focus shifts to the general election this November.
At the top of the ballot is J.B. Pritzker, who defeated two other Democrats to become the party's gubernatorial nominee this fall. The candidate has vowed to stand up for unions and working people, as well as for improving wages and health care.
Rita Bomher, a business agent with Local 777, got a chance to meet Pritzker while phone banking for the Democrat Monday at his Rockford campaign office. "I was just making my calls, oblivious to everyone," she said. "All of the sudden, someone touched me on the arm, and it was him. When I stood up, he saw my Teamster shirt, and he said, 'Oh wow!'"
But meeting the candidate was just a small part of her day. Bomher estimates that she called upwards of 400 people the day before the election trying to convince them to vote for Pritzker. In one case, a man she spoke to said he would change his vote if she brought him a yard sign. So she drove 47 miles one way to do so.
That's the kind of dedication that will be needed to be successful this November. Teamsters will need to be all in to get current Gov. Bruce Rauner out of office. Rauner is a vehemently anti-union lawmaker who has tried to roll back collective bargaining in the state. He also pushed to institute so-called "right to work" provisions in "empowerment zones" across Illinois.
The battle at the ballot box, however, doesn't end at the governor's mansion. JC 25 will continue to work for the re-election of Reps. Bobby Rush, Robin Kelly, Dan Lipinski, Mike Quigley, Danny Davis, Raja Krishamoorthi, Jan Schakowsky, Brad Schneider, Bill Foster and Cheri Bustos, as well as the election of Jesus "Chuy" Garcia and Brendan Kelly to Congress.
Workers deserve a better life that allows them to earn a living that supports a family. But it won't happen without electing lawmakers who put people before the powerful.
« Previous
Next »