Uncategorized
SoCal Teamsters Urge Continued Support for New LA Waste Program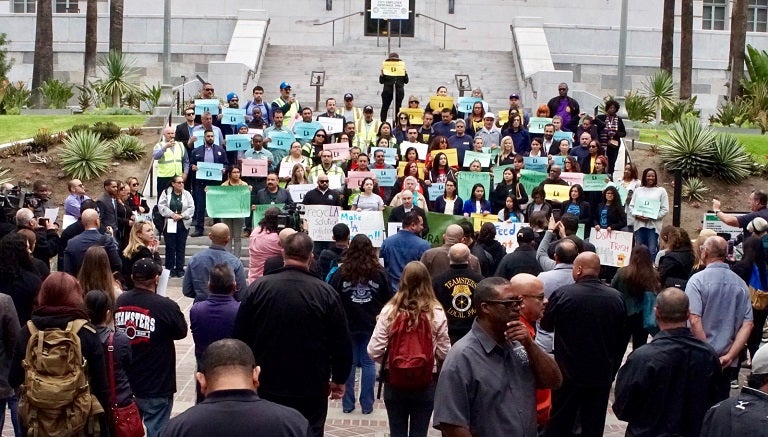 Southern California Teamsters working in the solid waste industry joined with hundreds of worker and environmental allies late last week outside Los Angeles City Hall in support of the city's new commercial waste and recycling system which is improving the lives of workers and residents.
Called recycLA, the new system has been fully implemented for only five weeks, but is expected to improve the lives of those who work in the city's waste sector as well as neighborhood residents, particularly working class communities of color. Seven companies are handling an estimated $3.5 billion in commercial waste hauling in Los Angeles. Each company is assigned as the sole trash hauler for commercial sites and multi-family complexes in one or more of the city's 11 zones.
"We've heard a lot over the past few weeks about the costs of this new program," said Robert Northoff, director of the Don't Waste LA coalition. "But we're here to remind city leaders about the real costs that were paid by our communities and our city before recycLA. We can't afford to go back to an unregulated system that polluted our communities, destroyed our roads, and put workers lives at risk. We won't go back, and we're going to hold city leaders to their commitment over the long haul."
The new program has helped to lift standards for workers in the waste and recycling industry. It includes protections that allow workers in the sector to provide a good living for their family, put extra food on the table, and, most importantly, ensure that they'll come home safely at the end of a hard day of work.
Under recycLA, all apartments and business have access to recycling, reduced truck pollution due to the use of clear fleet vehicles, and improved job quality in waste and recycling. The program has also set the city on track to divert 90 percent of its waste from landfills by 2025.
In the first few weeks of implementation, service complaints account for less than one percent of all pickups. But long-time business opponents of the new system are using those calls to exploit the implementation of the program in an effort to have it eliminated.
Los Angeles residents like Emily Petito, however, are calling on city officials to hold firm in its backing of recycLA. "The new recycLA program is helping to clean up our environment by creating less truck traffic and requiring all waste trucks to be clean fleet vehicles," she said. "We can't afford to roll back the quality of our air and the health of our families and communities."
« Previous
Next »