Teamsters' Jim Glimco to International Allies: Thank You for Your Commitment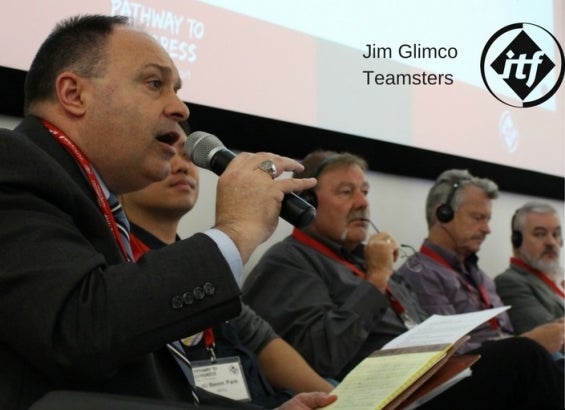 (LONDON) – Teamsters Passenger Transportation Division Representative and President of Teamsters Local 777 Jim Glimco addressed international union allies at a meeting of the International Transport Workers Federation Urban Transport Committee in London last week. Many of the unions that were in the room represent workers from National Express (NEX), a UK-based multinational company and the second largest bus company in North America.
"National Express is a global company that is charged with one of the greatest responsibilities – transporting our school children and community members safely and securely," Glimco said. "A key element of that work is the professionally-trained staff who provide that service across the globe. The Teamsters are concerned about the company's inconsistent approach to its workers and the unions who represent them, especially in North America. We are confident that by working together with our international union allies, we can successfully encourage NEX to commit to one single approach to labor relations that is based on mutual respect."
In his presentation, Glimco noted the work the Teamsters have done in North America to bring together NEX workers and give them a voice on concerns related to fair treatment and safe operations. The Teamsters represent NEX workers throughout North America, but they have faced a consistent effort by the company to undermine the union and its workers who seek to organize. Such activity creates a culture of fear that is detrimental to the goal of providing safe and reliable transportation to communities.
In 2016, the ITF unanimously invoked the "Charter on Corporate Bad Behavior," an action that committed affiliate unions in countries where NEX operates to coordinate efforts to encourage the company to take a respectful approach to its workers and their unions throughout its operations. Representatives from unions in each of those countries have met on numerous occasions to develop a coordinated plan to hold NEX accountable wherever they operate.
Teamsters General President James P. Hoffa will be meeting with NEX's North American CEO Matt Ashley at the end of March.
"The Teamsters remain committed to improving relations and are hopeful that Mr. Ashley and the NEX Board of Directors will commit to reasonable steps that are necessary for setting a new course toward a genuinely collaborative and respectful partnership," Glimco said.
Founded in 1903, the International Brotherhood of Teamsters represents 1.4 million hardworking men and women throughout the United States, Canada and Puerto Rico. Visit www.teamster.org for more information. Follow us on Twitter @Teamsters and on Facebook at www.facebook.com/teamsters.
« Previous
Next »