New Teamster Business Agents Learn the Ropes at TLA Training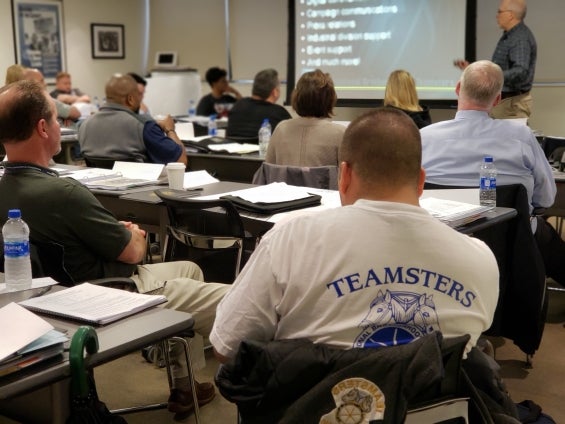 Dozens of new Teamster business agents are gathered at the Teamsters headquarters in Washington D.C. this week for a Business Agent Skills in Survival (BASIS) training put on the Teamsters Leadership Academy and the IBT Training and Development Department.
The business agents came from more than 20 locals around the country to sharpen their skills and learn more about the role a business agent plays in representing and fighting for members in various industries nationwide.
"This is a great opportunity for us because this is not a job where you can take your time and learn things slowly," said Mark Grinevicius, a new business agent at Teamsters Local 639. "When you walk in you're dealing with real issues that need to be handled property, so having a quick education like this is really important."
The business agents are taking part in group exercises and learning from IBT legal experts and staff about best practices, negotiating contracts, building membership power, communications, and contract enforcement and arbitration. They are also discussing some of the challenges around member apathy, unresolved grievances, breaking through divisions in the workplace, and other issues.
Participants got an in-depth history lesson about the union from Teamsters historian Karin Jones, as well as a field trip to Teamsters Labor History Research Center located at the nearby George Washington University earlier in the week. They also heard from General President Jim Hoffa who welcomed the new business agents to the building and emphasized how important they are to the members and the union as a whole.
Tomorrow morning the business agents will be heading over to Capitol Hill with the Teamsters Political and Legislative Action Department to meet with Congressional staff and representatives to talk about the pension crisis and the need to support the Butch Lewis Act of 2017.
"This training is really valuable for new business agents and veteran ones like myself in terms of getting a refresher course on the ins and outs of being an effective business agent," said Alfredo Salazar, a business agent with Local 630 in Los Angeles. "It's a reminder for folks about the resources available to them through the IBT to fight for our members."
« Previous
Next »