Uncategorized
Teacher Uprising Continues Across U.S.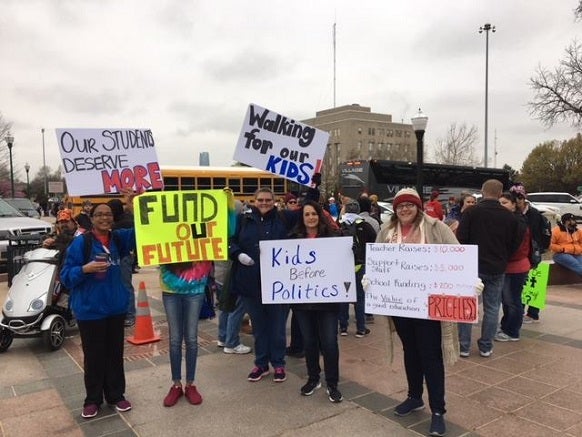 Teachers in Oklahoma, Kentucky and elsewhere are following the lead of West Virginia educators who went out on strike last month, tired of being shortchanged and their students being ignored by lawmakers more interested in doling out corporate handouts instead.
On Monday, thousands of Oklahoma and Kentucky teachers walked out of their classrooms and converged on their respective state Capitols to let elected officials know they can no longer ignore the needs of educators and their pupils. Oklahoma currently ranks last in the U.S. in teacher salaries, with some not receiving a raise in a decade. Meanwhile, the pensions of teachers in Kentucky are being threatened by the Legislature there.
And in Arizona, many teachers took to the streets last week demanding a 20 percent pay raise and an increase in student spending. They are threatening to strike if no action is taken.
"What you are seeing all over the country is people have been pressed so much, they are at their last straw," Randi Weingarten, President of the American Federation of Teachers, said in an interview on MSNBC.
Noting that corporate taxes in Oklahoma and elsewhere have been slashed in recent years while teachers and students deal with overcrowding in their classrooms, many are finally saying enough. "We need a downpayment to pay teachers a living wage, but also for the students," she added. "This is the abandonment of our future, plain and simple."
These actions come at a time when public sector unions are under attack. In February, the U.S. Supreme Court heard "Janus v. AFSCME," which challenges whether public school teachers and government workers should be required to pay "agency fees" to cover contract negotiation and worker representation costs.
For more than 40 years, federal law has provided public employees the right to join together in a union as a way to have a voice on the job with respect to how they are paid, the benefits they receive, and general conditions of employment such as the procedures for taking time off from work.
These massive actions in red states, which are being followed closely by the public and the media, show that hardworking Americans have had enough of the second-class treatment by their elected officials. West Virginia teachers proved that direct action can work. Now lawmakers in other states are going to realize they can no longer ignore those who are tasked with educating the nation's future.
« Previous
Next »