Uncategorized
Teamster BAs Tell Lawmakers About Need for Pension Fix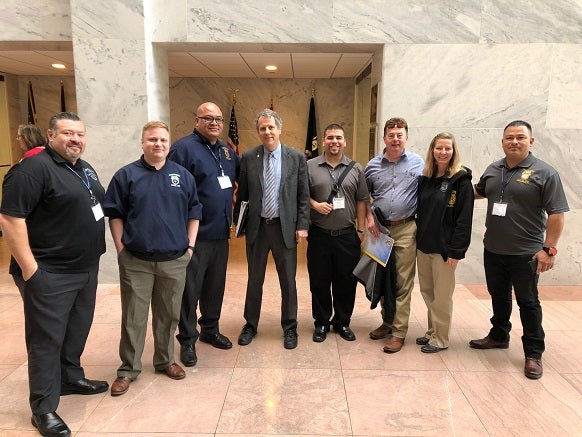 Scores of Teamster business agents from all over the country descended on Capitol Hill today to talk to their lawmakers about a top concern of the union – pension reform.
There, they shared their stories about why House and Senate members, no matter what their party affiliation, should back the Butch Lewis Act of 2017. They explained how their members and Teamster retirees are fearful of their futures if real change is not made. And they told elected officials how the nation's economy could be adversely affected if legislation to fix failing multiemployer pension plans doesn't happen.
"Our local does get calls each day about pensions," said Zach Peterson, a business agent with Local 238 in Cedar Rapids, Iowa. "This isn't just a Teamster issue. If this doesn't get resolved this will be an economic issue. Many won't have money to spend."
Tracy Leone, also a business agent from Local 238, said ultimately the government is going to have to pay money to help the 1.5 million people affected by underfunded multiemployer plans. So it should do the right thing. "We can spend money now or spend money later and hurt people we don't need to hurt," she said.
As it stands, there are more than 300 multiemployer plans across the country — including the Teamsters' Central States Pension Fund — that are in danger of failing. The newly-formed Joint Select Committee on Solvency of Multiemployer Pension Plans, co-chaired by pension reform advocate Sen. Sherrod Brown (D-Ohio), needs to find a vehicle that will deliver for these hardworking Americans who are paying, or have paid, into the pension pool and have played by the rules all their lives.
Luckily, the Butch Lewis Act (H.R. 4444/S. 2147) would solve the problem. Brown is the lead sponsor in the Senate, while Rep. Richard Neal (D-Mass.) introduced the bill in the House. But this measure is not just a one-party plan.
Republicans such as Reps. Peter King and Dan Donovan of New York, Chris Smith, Frank LoBiondo, and Tom MacArthur of New Jersey, Brian Fitzpatrick and Ryan Costello of Pennsylvania, and Kevin Cramer of North Dakota and Don Young of Alaska understand the value of the bill and should be lauded for supporting this legislation. The measure would boost financially-troubled multiemployer pensions so they don't fail. It would create an agency under the Treasury Department that would sell bonds in the open market to large investors such as financial firms.
That's the message business agents took to their representatives today. And it's one all on Capitol Hill should understand. Workers aren't seeking a bailout. They just want fairness.
« Previous
Next »