Uncategorized
Teamsters Head to Hill to Discuss Pension Reform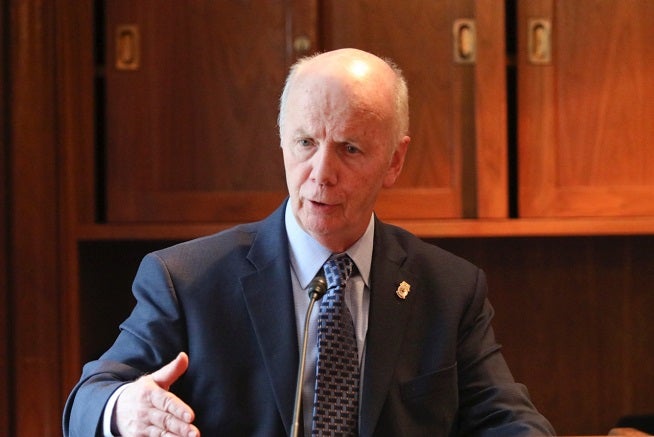 Top Teamster officials twice headed to Capitol Hill in the last week to brief House and Senate staffers on legislation backed by the union that would stabilize failing multiemployer pension plans.
Led by John Murphy, an International Vice President-At Large who has headed the Teamsters' pension reform efforts, the union educated congressional aides about the Butch Lewis Act of 2017 and the history of troubled pension plans. The meetings came just days before the Joint Select Committee on Solvency of Multiemployer Pension Plans meeting set for today.
"The Teamsters decided to talk to those who work behind the scenes in Congress because it is essential they understand the retirement crisis that is looming if nothing is fixed," Murphy said. "We hope that once they know the facts, they will tell their respective legislators how change is needed and that they should back this legislation."
As it stands, there are more than 300 multiemployer plans across the country — including the Teamsters' Central States Pension Fund — that are in danger of failing. The congressional pension panel, co-chaired by pension reform advocate Sen. Sherrod Brown (D-Ohio), needs to find a vehicle that will deliver for these hard-working Americans who are paying, or have paid, into the pension pool and have played by the rules all their lives.
Luckily, the Butch Lewis Act (H.R. 4444/S. 2147) would solve the problem. Brown is the lead sponsor in the Senate, while Rep. Richard Neal (D-Mass.) introduced the bill in the House. But this measure is not just a one-party plan.
Republicans such as Reps. Peter King and Dan Donovan of New York, Chris Smith, Frank LoBiondo, and Tom MacArthur of New Jersey, Brian Fitzpatrick and Ryan Costello of Pennsylvania, and Kevin Cramer of North Dakota and Don Young of Alaska understand the value of the bill and should be lauded for supporting this legislation. The measure would boost financially-troubled multiemployer pensions so they don't fail. It would create an agency under the Treasury Department that would sell bonds in the open market to large investors such as financial firms.
As of now, the Central States fund is facing an unfunded liability of $17.2 billion, the largest of all multiemployer plan shortfalls. The Bakery and Confectionary Union pension is second with a $3.2 billion shortfall, while the United Mine Workers are third at $2.4 billion. Other threatened multiemployer plans face a total shortfall of $13.6 billion. That's why Murphy stressed the importance of the joint pension committee to come up with a solution as soon as possible.
Workers and retirees aren't asking for a handout; they just want what is rightfully theirs. It's time for the joint committee to get to work and endorse this legislation that will make retirees whole. They've waited long enough.
« Previous
Next »