Teamsters Kick Off Organizing Blitz in Miami with Actions at XPO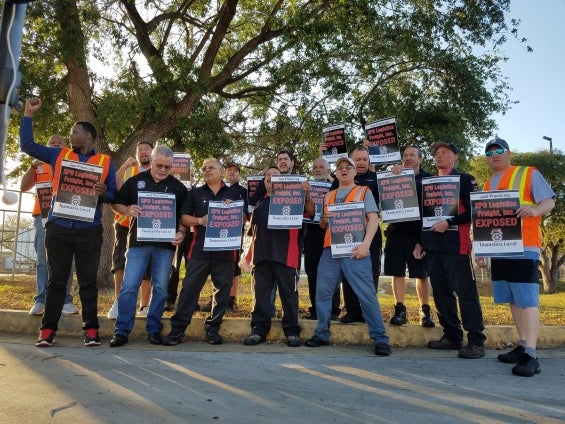 Teamsters kicked off a multi-campaign organizing blitz in Miami today which began with drivers and dock workers at XPO Logistics taking action outside of their terminal. The XPO workers, who voted to join Teamsters Local 769 in 2014, have been working without a contract for more than three years and are demanding pay increases that have been withheld by the company.
The workers are also calling on XPO to respect workers and negotiate a fair contract. Michael Zangrallo, a driver at the Miami terminal, emphasized that the drivers want the company to succeed and that XPO is obligated to give them what they are demanding.
"My message is and always has been that this is not an attempt to hurt the company," Zangrallo said. "We work hard, and we will always work hard. We just want to be compensated for the work that we do."
The workers in Miami are owed pay increases which the company has been ordered to pay out by an administrative law judge.
But they are not alone. The action taken by workers at the Miami terminal today were part of a nationwide day of action at unionized XPO sites across the country. Workers at other Teamster-represented XPO facilities who have also been wrongly denied pay increases and a fair contract held similar actions in Aurora, Ill., Laredo, Texas, King of Prussia, Pa., and Trenton, N.J.
While XPO has grown into a major global company and its CEO, Bradley Jacobs, has raked in record profits, freight drivers and workers have been left with stagnant wages, substandard benefits, and poor working conditions.
"We made Bradley Jacobs a billionaire – he needs to take care of us," said Orlando Monterro, another driver at XPO in Miami. "We're just asking for what is fair. We just want a decent pay rate, decent work hours, and decent conditions."
More actions and organizing activities are set to take place over the coming days at XPO and other companies throughout the Miami area as the Teamsters organizing blitz moves forward.
« Previous
Next »