Uncategorized
Teamsters, UAW Join With Whitmer to Help Flint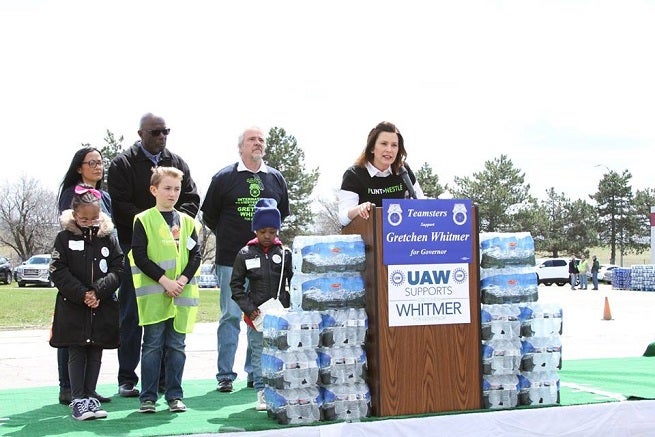 The Teamsters and the United Auto Workers came together in Flint, Mich. on Saturday to distribute some 50,000 bottles of water to city residents who continue to suffer the indignity of not having clean water to drink.
But the point of the action went way beyond one event. There is a need, not just in Flint but other localities across Michigan, to upgrade water systems and other essential infrastructure. And that's why Michigan Democratic gubernatorial candidate Gretchen Whitmer joined union members over the weekend to speak out for change.
"We are glad to help, but this won't be enough," Teamsters Local 332 President Nina Bugbee said. "We need a partner in the governor's office who will get things done for Flint."
Whitmer, addressing the crowd, said her election would bring a new attitude and reinvestment to Michigan. "We are here stepping up because this government has failed the people again and again," she said. "We are here to help, but let's be clear: bottled water is not a solution. The solution comes with the next election."
Teamsters Joint Council 43 President Greg Nowak agreed, saying Whitmer's time on the front lines of the fight to ensure every community has access to clean, safe water makes her Michigan strongest candidate to get things done for the people of Michigan.
"We're here today because once again, the people of Flint are suffering because our governor and attorney general puts dollars and cents ahead of people's lives," he said. "Flint needs a fighter in the governor's office who is going to get things done. Gretchen has a concrete plan to fix our infrastructure so communities across the state are confident that their drinking water is safe."
The Teamsters endorsed Whitmer for governor in March.
The union has played an active role in helping Flint deal with its water woes in recent years. Locals and joint councils from all over the U.S. spent the first half of 2016 delivering bottled water by the truckload in an effort to make clean water available to a citizenry that couldn't depend on what flowed out of its own taps.
Hardworking union members stepped into the gap left by politicians. While Michigan Gov. Rick Snyder and other politicians scrambled to assign blame instead of working to fix the problem, rank-and-file union members made a real difference in the lives of those affected.
State residents can take the next step by electing Whitmer in November.
« Previous
Next »