Vancouver Local 31 Limo Drivers Ratify First Contract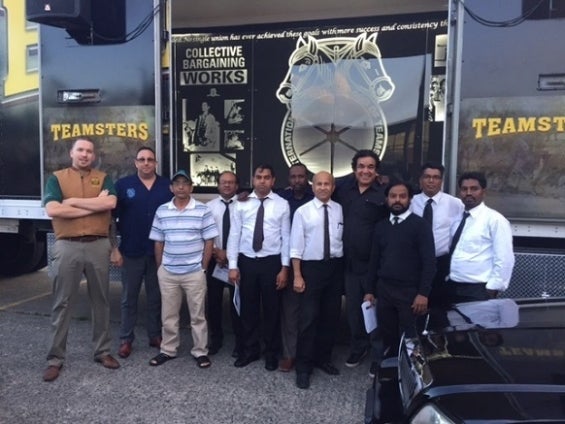 Sixty-five Vancouver International Airport-based limousine drivers employed at Aerocar Service Ltd., Highend Limousine Ltd., 0935143 B.C. Ltd, and 632226 B.C. Ltd. voted unanimously earlier this month in favor of ratifying their first collective agreement.
The bargaining committee endured many employer obstacles, including unfair labor practices, but in true Teamsters fashion, Local 31 stayed the course and gained more support from our brothers as time carried on.
Business representative Caley Fieldhouse chaired negotiations, while Director of Organizing Ben Hennessy co-chaired and brothers Azhar Bashir and Hichem Abida were the driver representatives at the table with the Union.
"Our Union dedicated itself evening and weekends building strength for our new Teamsters at Aerocar Service," President Stan Hennessy said. "It's no coincidence that this hard work paid off with a first limousine collective agreement in Canada."
The first-of-its-kind collective agreement contains increased driver revenue; seniority, including seniority on all new highend cars or SUV's purchased by the company; security language, including no unauthorized deductions; wait time rates and increased general working condition language.
"Mediation was an excellent avenue for bargaining," Fieldhouse said. "Clearly the parties weren't on the same page at the table."
However, mediation broke down and the Teamsters gave 72-hour strike notice to the company. A day later, a collective agreement was finalized.
Our new members proudly pin the Teamster button to their suit lapel as a reminder of the struggle and adversity in organizing and negotiating a first agreement, but, most importantly, they wear it because of the optimism the future will bring as members of the greatest Union.
« Previous
Next »