Uncategorized
Minn. Teamsters Head to Worksites to Get Out the Vote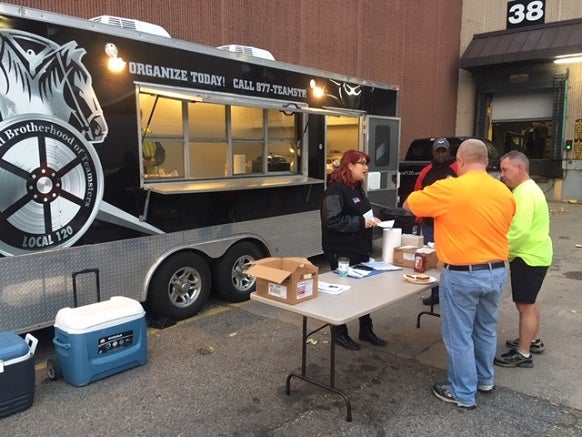 MINNEAPOLIS – On a cold pre-dawn Minnesota morning less than two weeks before Election Day, Teamster lost-timers are already on the job trying to convince their fellow union members to get out and vote to protect their rights on the job as well as their retirements.
Inside Lyman Lumber and later outside a huge SuperValue warehouse facility, a handful of Local 120 members are talking to workers about the importance of voting and trying to get them to vote by mail. Why? Because 80 percent of those who end up getting a ballot mailed to them will end up using it.
Haylee Hilton, Local 120's political coordinator, said these Teamsters taken off the job to do political outreach had visited 135 job sites and gotten some 767 members to fill out a short form so they could have a ballot mailed to their home. But persuasion is also part of the duties.
"Our job is to make sure members have the information they need to make an informed decision," she said. "We need to convince members that politics has an effect on every aspect of their job."
There is a lot at stake in Minnesota this year. Both Sens. Amy Klobuchar and Tina Smith, backed by the Teamsters, are on the ballot. An open governor's race features Teamster-endorsed candidate and current U.S. Rep. Tim Walz. And there are four competitive House seats in the state as well.
So Local 120 members are doing what they can to ensure their fellow union workers understand the issues and vote, be it by mail or on Election Day. Workers have been hurt at the federal level by regulation rollbacks that have hit them in the wallet and at the workplace. There are worries about pensions. And right to work looms as a real concern as well.
Paul Slattery, Local 120's political director, said interest from union members is definitely higher in this election than in the past. Part of the reason is they've seen the damage that right to work has done in Wisconsin under Gov. Scott Walker as well as surrounding states. And they don't want it repeated in Minnesota.
"Our members can see it has had an effect on those states' economies," he said. "We tie it to the pocketbook. We say we don't want to become another Wisconsin."
With only days to go until Nov. 6, it is essential that Teamsters get themselves, their families and their friends to the polls. The future of workers' pay, workplace rights and retirement security is at risk.
Dave Hesse, a USF Holland driver who is working as a lost timer for the first time, said it is important for members to get involved in the process it they want the union movement to succeed.
"If you want the benefits of the union, you have to fight alongside it," he said.
« Previous
Next »