Rallies Lend Support to Striking XPO Workers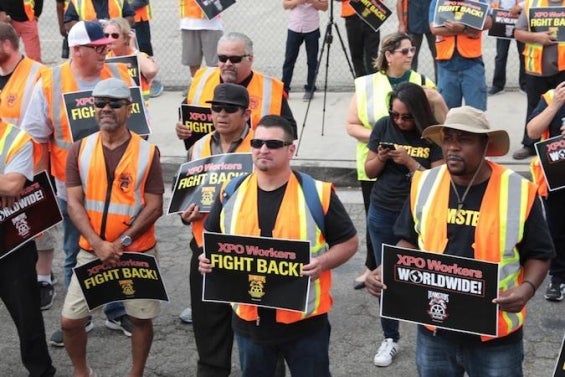 Concurrent rallies at picket lines in front of XPO in both San Diego and Commerce mark the second day of actions in Southern California. XPO workers raised their voices and shared their stories, all touching on how XPO's labor practices negatively affect their life.
"We want people to know that they're taking our wages, misclassifying us," said Isabel Samayoa, a port truck driver out of Commerce. Highlighting on the issues she faces every day on the job she said, "We know we're their employees and they're our employers. We want them to respect us, it's the respect we deserve."
XPO's abuses reach beyond the Ports of LA and Long Beach and San Diego, across the country in Memphis, Tenn., as well.
"XPO does not care about the living or the dead. I'm here to stand in solidarity with my brothers and sisters to shine a light on this company," said Tasha Murrell, a former warehouse worker from XPO Memphis.
In San Diego, striking XPO workers shared their stories of abuse, in hopes of being heard.
"We're tired of being treated like modern day slaves for this company," said Alberto Rivera, a driver for XPO out of San Diego. "All we've been getting from this company is mistreatment, misclassification and retaliation."
With the help of the Teamsters, these XPO Workers are making sure their voices are heard and their stories are uplifted.
Strikes will continue across Southern California. Follow these major actions online, here on www.teamster.org, as well as www.justiceforportdrivers.org
On Twitter, @Teamsters and @PortDriverUnion
On Facebook, www.facebook.com/teamsters and www.facebook.com/Justice4PortDrivers
On Instagram, @Teamsters
« Previous
Next »