Hoffa: Election Results Are a Victory for the Concerns of Working Families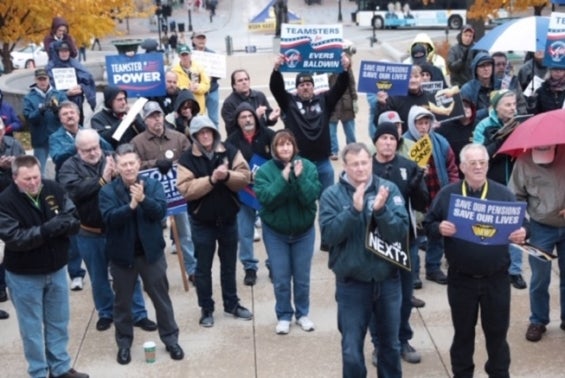 (WASHINGTON) – The following is a statement from Teamsters General President Jim Hoffa about last night's election results, where pro-worker candidates – including Teamster members themselves – prevailed in key races.
"From coast-to-coast, a historic number of hardworking Americans showed up and had their voices heard at the polls yesterday. And taken together, they made it clear that the status quo that has favored the powerful in government is no longer acceptable.
"Whether it was the defeat of virulent anti-union GOP governors like Wisconsin's Scott Walker and Illinois' Bruce Rauner; the onslaught of inspiring victories by women candidates such as Gretchen Whitmer for governor of Michigan or Jacky Rosen for U.S. Senate in Nevada; or the retaking of the House of Representatives by Democrats, Americans have sent a message that lawmakers haven't been standing up for them. That has to change.
"Not only did Teamster-backed candidates prevail at the top of the ticket, but it trickled down to the statehouse level as well. Democrats flipped the Colorado Senate, Maine Senate, Minnesota House, New Hampshire House, New Hampshire Senate and New York Senate yesterday and now have full control of government in Colorado, Illinois, Maine, Nevada, New Mexico and New York because of it.
"Our own members helped lead the way, with key victories by Teamsters like Jeff Kurtz in the Iowa House; Susan Martinez in the Nevada House; and David Delloso and Steve Malagari in the Pennsylvania House, among others.
"Too many elected officials have chosen to attack unions in recent years. But that's going to stop right now. Workers first proved in Missouri last August that terrible laws like so-called right to work can't be shoved through by elected officials against the will of the people. Yesterday's vote reinforces that position.
"Hundreds of Teamsters mobilized across the country to get these new union-endorsed lawmakers elected. Now, the Teamsters stand ready to help chart a new course for this nation, one that prioritizes workers by advocating for better pay, respect on the job and a secure retirement. Let's get to work!"
Founded in 1903, the International Brotherhood of Teamsters represents 1.4 million hardworking men and women throughout the United States, Canada and Puerto Rico. Visit www.teamster.org for more information. Follow us on Twitter @Teamsters and "like" us on Facebook at www.facebook.com/teamsters.
« Previous
Next »