Uncategorized
In Ohio, Another Effort to Institute RTW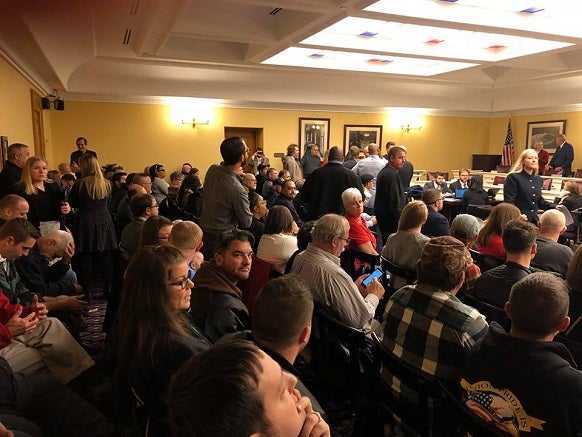 Some lawmakers in Ohio were up to their old tricks again last week when a hearing was held to discuss a so-called right-to-work (RTW) bill. But the Teamsters and other unions showed up and made it clear that the Buckeye State doesn't need any more laws that infringe on the rights of workers.
While state Rep. John Becker (R) tried to peddle to the public that the legislation, known as HB 53, would only enshrine into state law the recent "Janus v. AFSCME" decision handed down by the U.S. Supreme Court in June, labor and pro-worker allies weren't having any of it. Ohio, they noted, rejected RTW in a 2011 referendum vote, and there was no reason to consider the issue again.
"Right to work bills like HB 53 are big government interfering with public sector unions," said Tim Price, Chairman of the Brotherhood of Locomotive Engineers and Trainmen's Ohio State Legislative Board. "The public sector should be able to make agreements with the employees that best suit their business model."
Democrats on the House Finance Committee also pushed back on the bill, saying Becker was not being forthcoming on the true ramifications of the legislation. Hannah Halbert, a researcher for Policy Matters Ohio, echoed that point.
"Rep. Becker says that HB 53 will only codify a Supreme Court decision that eliminated fair share fees," she said in a tweet. "This is absolutely untrue."
Among other things, the legislation would make "an appropriation to be used by the State Employment Relations Board to pay the costs of developing, producing, and distributing written information explaining a public employee's rights and options under the Public Employees Collective Bargaining Law."
What that means is taxpayers would be doling out scarce public dollars to enforce union busting. That's not a good use of precious funds and certainly goes beyond anything spelled out under "Janus".
Efforts to impose RTW in Ohio have popped up several times in recent years, but thankfully haven't gone anywhere. And it appears this latest attempt won't either. Current Gov. John Kasich and incoming Gov. Mike DeWine said they don't support such efforts, given voters' rejection of the ballot measure seven years ago.
That said, unions must remain vigilant in fighting against such anti-union measures. Workers in RTW states have lower wages, higher poverty, less access to health care and poorer education for their children.
When will corporate crony lawmakers learn? You'd think the stinging rebuke issued by Missouri voters in August, when they defeated a no-rights-at-work ballot measure by a more than two-to-one vote, would have sent a message.
RTW is a ruse. Workers mustn't let elected officials forget it.
« Previous
Next »