Uncategorized
Teamsters, Retirees Return to Hill to Push for Pension Reform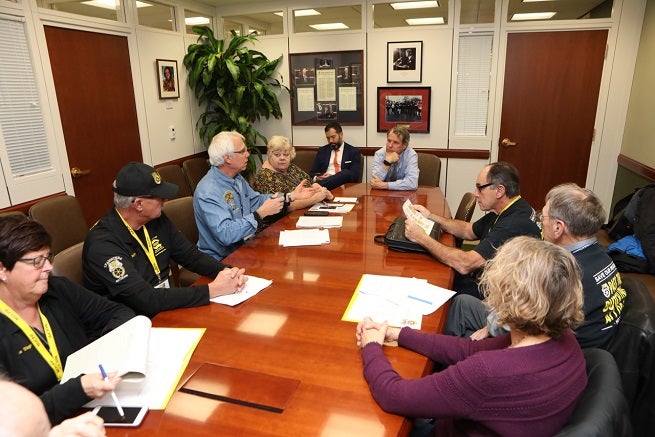 Teamster retirees and workers are back on Capitol Hill this week, and they are more motivated than ever. Congress faces a Nov. 30 deadline to come up with a pension reform solution, and as these folks meet with their lawmakers, they aren't taking no for an answer.
Upwards of 150 people with Teamster ties came to the nation's capital from all over the country to tell their stories, and if they sound familiar, they should. These hardworking Americans, who toiled for decades in middle class union jobs with the understanding they would be able to continue that lifestyle in retirement, now face uncertainty. They are stressed and scared about their futures.
"This country is based on working your whole life, and you should receive what you worked for," said Tom Schetter, a retiree with Wisconsin's Local 662 who worked for 39 years as a receiving clerk for the grocery chain Piggly Wiggly. "That's what we grew up learning from our parents, and I've taught my kids the same thing."
He said he hoped elected officials, especially those who may not always align with unions, listen to what he and other Teamsters have to say.
The bipartisan House-Senate Joint Select Committee on Solvency of Multiemployer Pension Plans was created earlier this year and ordered to work on a fix to the looming pension crisis. Promises made to these workers and retirees aren't being honored. That's why they're here to lobby their elected officials to support legislation that would provide a lifeline for faltering multiemployer pensions like the Teamsters' Central States Pension Plan.
The Teamsters are fighting for a legislative solution and working with lawmakers on both sides of the aisle. The union supports the passage of the Butch Lewis Act of 2017 (BLA) which was introduced in Congress in November 2017 by Sen. Sherrod Brown of Ohio and Rep. Richard Neal of Massachusetts and has received bipartisan support.
The BLA would boost financially-troubled multiemployer pensions so they don't fail. It would create an agency, the Pension Rehabilitation Administration, under the Treasury Department that would sell bonds in the open market to large investors such as financial firms.
Brown, speaking to Teamsters on Tuesday evening, said legislative progress is being made. "I want to get the bill agreed to by the end of November and get it passed," he said. "Anyone you can go see in your states, put pressure on them. Educate them about collective bargaining and how it created the middle class."
« Previous
Next »