Verizon on Notice: Workers, Community Leaders Nationwide Alert Customers to Abuse of Workers Who Package and Ship Phones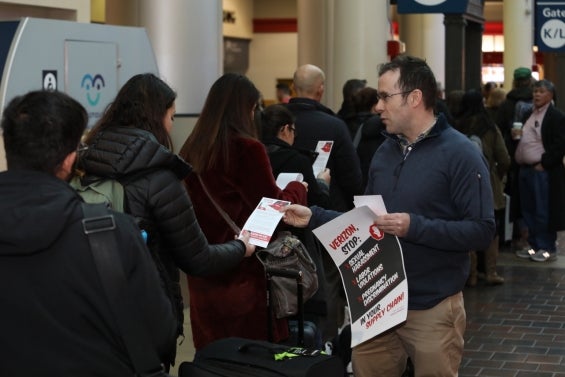 (Nationwide) – XPO Logistics workers and allied organizations nationwide sent a powerful message to Verizon CEO Hans Vestberg and Board of Directors on Thursday, re-engaging them with a second letter and alerting customers at Verizon stores to mistreatment in the company's supply chain.
In an escalation following months of worker complaints, legal filings and an explosive New York Times exposé, XPO workers and community members greeted Verizon customers at over a dozen stores across the country on Thursday with information and next steps. The actions alerted Verizon customers nationwide to egregious abuse of workers at the company's Memphis, Tenn. distribution center, and invited them to tell Verizon "we want fair supply chains now."
The coordinated nationwide actions engaged Verizon customers at stores in Los Angeles, New York, Chicago, Houston, Memphis, TN as well as in Florida, Pennsylvania, Illinois, Connecticut, Maryland, and Washington, D.C.
"My coworkers and I were sexually harassed all the time with nowhere to turn," said Lakeisha Nelson, a worker at the Verizon-contracted XPO warehouse in Memphis. "Our warehouse is an essential part of Verizon's business, and it is high time that the company's leadership helps us end supervisor sexual harassment and misconduct at XPO once and for all."
The actions corresponded with a follow-up letter from women's and civil rights organizations to Verizon CEO Hans Vestberg and Board of Directors, calling for an update on the promised investigation into sexual harassment allegations, and a meeting between them and the company to discuss its next steps, especially given new reports of pregnancy discrimination.
The letter, signed by the Tennessee NAACP, NAACP Memphis Branch, National Women's Law Center, A Better Balance, Sister Reach and the International Brotherhood of Teamsters, reads in part:
These reports… and the numerous allegations of sexual harassment and retaliation that were brought to Verizon's attention in May, paint a disturbing picture of how workers are treated in its supply chain. These allegations run contrary to the company's Supplier Code of Conduct that upholds "ethical conduct in the workplace, safe working conditions," and "the treatment of workers with respect and dignity".
"It shouldn't have taken months of advocacy and public pressure to get XPO to change its pregnancy accommodation policy. While we are heartened by this change, the proof will be in the implementation and we will be monitoring it," said Dina Bakst, Co-President and Co-Founder of A Better Balance. "Verizon must act to ensure that the new policy is followed and stop the horrifying abuse of female warehouse workers in its supply chain. As we advocate for stronger federal laws in this area, such as the Pregnant Workers Fairness Act, companies like Verizon and XPO have a responsibility to lead by improving conditions immediately."
"We are in solidarity with XPO workers struggling to improve conditions in their workplace," said Emily Martin, Vice President for Education & Workplace Justice at the National Women's Law Center. "No one should have to choose between a paycheck and a healthy pregnancy, or bear the risk of being sexually harassed at work. Congress must pass the Pregnant Workers Fairness Act, and companies like XPO and Verizon should not only conduct an investigation, but immediately fulfill their urgent responsibility to address and prevent harassment and discrimination in their workforces and in their supply chains."
"Far too often, Black women experience sexual and reproductive oppression, are exploited and forced to work under unsafe and unethical conditions," said Cherisse Scott, CEO and Founder, SisterReach. "Verizon must show its commitment to protecting the Black female workers in its supply chain, and that means meeting with the trusted advocates that workers at XPO Logistics have chosen, and hearing their concerns."
"Currently, putting our families first comes at too high a cost in the U.S. No pregnant person should have to choose between keeping their job or risk losing their baby. Yet many working people are in that impossible position," said Annie Sartor, PL+US' Advocacy Director. "While large companies provide protections from pregnancy discrimination along side benefits including paid family leave for their employees, those who deliver goods for these companies are often left out. That's why we're calling on companies who rely on XPO for business, like Verizon, to be accountable for the conditions of their full workforce."
"Verizon can and should be a leader on fair worker treatment and gender equity, but we are troubled by the company's silence on next steps to address the abuse of women in its XPO warehouse," said Dennis Trainor, Vice President of Communications Workers of America District 1. "Forty thousand Verizon Wireless workers and CWA members know that when workers come together and stand strong, we win. We recognize brave XPO workers speaking up with the same spirit and stand with them in their fight to banish sexual harassment, pregnancy discrimination and intimidation at their work."
"The Teamsters are proud to stand with XPO workers and allied organizations against inhumane, abusive workplace conditions in the warehouses," said James P. Hoffa, General President of the International Brotherhood of Teamsters. "No worker should face harassment and discrimination. We're demanding Verizon update stakeholders and show workers the respect they are owed by taking real action to solve abuse in its facilities."
XPO Logistics is a $12 billion company that packages and distributes products for major retailers including Verizon. The spotlight on Verizon's role addressing worker abuse comes as a front-page New York Times exposé about harrowing tales of miscarriages in the facility have prompted outrage from elected leaders. On November 20, 2018, nine senators, led by U.S. Senator Richard Blumenthal (D-CT) and U.S. Senator Elizabeth Warren (D-MA), sent a letter to XPO expressing outrage over the rampant pregnancy discrimination within their supply-chain. Ninety-seven members of Congress, led by Rep. Steve Cohen (D-TN) and Rep Rosa DeLauro (D-CT) also sent a letter calling for a House Committee on Education and Workforce investigation and hearing.
In early May, leading groups in the women's and civil rights movements delivered a letter calling on Verizon CEO Lowell C. McAdam and Board to meet with them and discuss next steps to end harassment and misconduct in Verizon-contracted warehouses. After receiving the group's letter, Verizon stated that it would investigate the complaints. Verizon has not updated the public on its investigation since then, or met with key stakeholders.
« Previous
Next »