Uncategorized
L.A. Teachers Win Better Pay, Schools for Students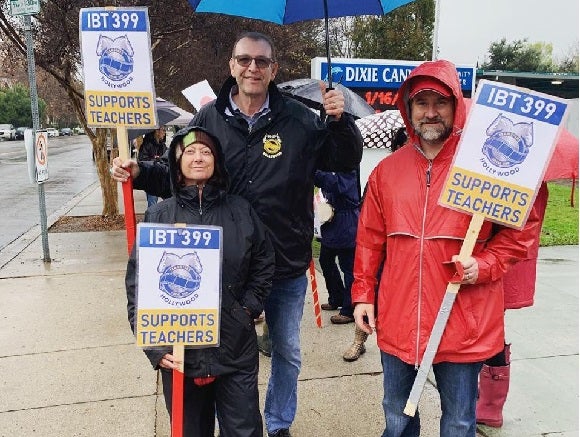 Los Angeles public school teachers followed the lead of educators across the country that went on strike last spring seeking better pay, smaller classrooms and increased staffing. And like them, they emerged victorious in their efforts.
Some 30,000 teachers and support staff returned to work today after overwhelmingly approving a deal between United Teachers Los Angeles and the school district. Pay will increase six percent, but education will also improve in the nation's second largest city thanks to an increase in an array of supplementary services that will benefit the classroom.
The agreement caps class sizes and requires hiring of full-time nurses for every school, as well as a librarian for every middle and high school in the district by the fall of 2020. Standardized testing will be reduced, and the school board will vote on a resolution to limit the amount of new charter schools in the city.
The Los Angeles walkout came after teachers in West Virginia, Oklahoma, Kentucky, Arizona and elsewhere took similar action in 2018 in standing up against elected officials after tiring of being shortchanged and their students being ignored by lawmakers more interested in doling out corporate handouts instead.
Those massive actions in red states, which were followed closely by the public and the media, showed that hardworking Americans had enough of the second-class treatment by their elected officials. They proved that direct action can work. And others are following suit.
On the heels of the victory by Los Angeles teachers, some 5,700 teachers and special service providers working in Denver's public schools are looking to follow the same path. They voted overwhelmingly last night to go out on strike after more than a year of negotiations failed to lead to an agreement. It would be the first strike by educators in the Mile High City in 25 years.
A strike could take place as early as Jan. 28. It comes 14 months of negotiations between the Denver Classroom Teachers Association and Denver Public Schools failed to overhaul the district's compensation system as educators sought.
Turnover is a major problem in Denver schools. The union notes than 31 percent of its teachers have been working at their school for three years or less. It also stated that teachers make $10,000 less than those in Indianapolis and $15,000 less than those in Chicago.
Union educators are pushing forward with these demands in Denver and all across the nation because they are necessary. Not only are they demanding better pay for themselves, but they are calling for communities to invest in their future by improving their schools. This movement is winning because hardworking Americans realize its importance.
Now that's union power!
« Previous
Next »