Teamsters Honor Dr. King's Legacy at Memphis Parade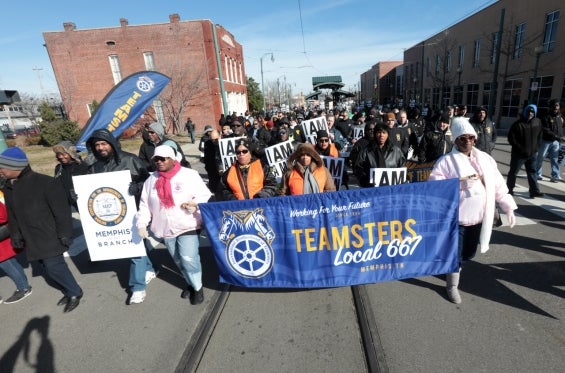 On the third Monday of January each year, unions, workers and people from across the nation gather to commemorate Dr. Martin Luther King Jr. and his final public act standing with city sanitation workers who were striking for better working conditions and a strong union.
Today, in an annual community march through Memphis, Teamsters from coast-to-coast joined with scores of workers and unions in a memorable event to honor Dr. King, organized by Teamsters Local 667, NAACP and AFSCME. Click here to see photos from the event.
"It means a lot to me to be down here to celebrate the life and legacy of Dr. Martin Luther King," James Jones, President of Memphis-based Teamsters Local 667, said. "We have to always remember what he stood for. Dr. King lives on. We're not down here for selfishness; we're down here for love."
A common theme of love, humanity, equality and unity echoed with each speaker at the event. Teamsters International Vice President Ron Herrera spoke to the crowd about building a foundation of unity and continuing the fight for worker justice.
"I want to give a shout out to all my labor brothers and sisters out here. To me Memphis is about unity, about sticking together – the community and labor fighting side by side," said Herrera, who is also Secretary-Treasurer of Local 396 in Los Angeles.
It's been nearly 51-years since Dr. King came to Memphis and stood alongside the sanitation workers on the strike line for 65 days, fighting for workers' rights and civil rights. And the magnitude of what this day means is best summed up by a man who saw it and lived it.
"Martin Luther King came down here for the sanitation workers, and I marched with him," said Baxter Leach, one of the orginal 1968 sanitation strikers who was recognized as the Grand Marshal of today's parade. "But he came down here for everybody. I thank God you invited me here today and I am proud to continue the struggle for this generation for workers' rights and civil rights."
« Previous
Next »