Airline Division News, Week Ending February 23, 2019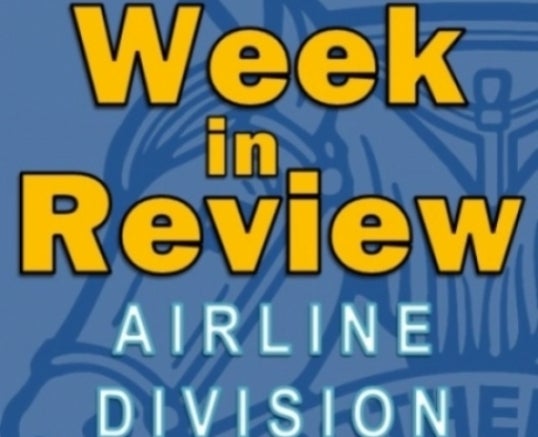 UPS Mechanics and Related ratify agreement, now the highest paid in the industry
UPS aircraft mechanics and related employees at UPS Air Cargo have voted to ratify their newest contract with the company. The contract, which becomes amendable on November 1, 2023, makes UPS Air Cargo mechanics the highest-paid air cargo mechanics in the country by a wide margin.
"We knew if we stuck together and stayed committed to protecting the pay and benefits we've earned over decades of hard work, we'd do what many thought was impossible and win big for our families, the future of our company and our customers," said Teamsters Local 2727 President Tim Boyle. "This contract does just that, along with raising standards throughout the aviation industry."
Some of the improvements in the contract include an immediate 17.72 percent pay increase, raises each year resulting in a 32.61 percent increase in pay from current rates by the end of the contract and the protection of an unparalleled health care package with no premiums.
"I want to extend my congratulations to the Teamsters Local 2727 negotiating committee. This agreement is the culmination of over four years of long hours, hard work and dedication from them. Their focus on improving the existing agreement and quality of life for our UPS members is what enabled us to ratify this industry-leading contract," said Captain David Bourne, Director of the Teamsters Airline Division.
SWA Simulator Technicians Ratify Agreement
Flight simulator technicians working for Southwest Airlines voted to ratify their contract with Teamsters Local 19. The collective bargaining agreement covering the 50 technicians will be in place for the next five years.
"Congratulations to the members of our negotiating committee and all of our flight simulator technicians who worked hard to negotiate and ratify this contract," IBT Airline Division Director Capt. David Bourne said. "This contract is a perfect example of the things airline workers can accomplish by sticking together and working towards a common goal."
"I'm extremely pleased that we were able to negotiate and ratify a contract as great as this one more than two months prior to the amendable date," Local 19 President Robert Clever said. "We look forward to continuing our productive and cooperative relationship with the company."
The contract includes many improvements, such as a three percent year-over-year wage increase, an increase in longevity pay and a 2.5 percent early ratification bonus. The agreement will remain one of the best in the airline industry for flight simulator technicians.
IBT, UAL jointly request NMB Mediation
On Tuesday February 5th, the International Brotherhood of Teamsters and United Airlines jointly requested that the National Mediation Board (NMB) provide assistance to mediate negotiations for an agreement covering maintenance controllers working at the company. The 90 maintenance controllers work in the carrier's Chicago headquarters and coordinate maintenance and repairs for United Airlines' aircraft fleet.
"We're looking forward to a productive conversation with the company and the NMB," said Captain David Bourne, Teamsters Airline Division Director. "We're confident that all of us can work together to craft a collective bargaining agreement that reflects the value, expertise and professionalism that these workers bring to United Airlines."
Negotiations for Allegiant Air Technicians and Related Continues
The IBT International Negotiating Team, Chairman Clacy Griswold, Co-Chair Bob Fisher, International Representatives, Paul Alves and Chris Moore, Business Agents Mike Moats (964), Tom Esposito (769), Gregg Vandagriff (104), Dave Elmore (986) along with rank and file committee members Collin Coffman, IWA, Brad Yokie, SFB and Floyd Espinoza, LAS, met at Allegiant Headquarters to begin direct negotiations with Allegiant management. Detailed work in advance by the committee before the first meeting with the Company led to a very productive start.
The Union was able to pass ten articles; Articles 5 (Hours of Service), 8 (Filling of Vacancies), 9 (Reduction in Force, Furlough and Recall), 10 (Leaves of Absence), 12 (Training), 13 (Safety and Health), 19 (Dispute Resolution and Grievance Procedure), 20 (System Board of Adjustment), 23 (Management Rights) and 24 (Labor Management Rights).
In a message to the membership, the Committee reported that the meeting with the Company was positive and that the parties are in the process of setting up future dates.
Keeping an Open Mind on Pilots' Mental Health
The deliberate crash of the Germanwings Airbus A320 in March 2015 has given the aviation industry a wakeup call to confront cockpit mental health head-on. Efforts within the air transport sector to overcome stigma attached to mental health problems are progressing.
Other airlines and Unions worldwide have established Peer Support groups to assist pilots with mental health and wellness. These groups have achieved a 90% success rate by helping pilots with their issues and providing a plan for returning to work.
The Teamsters Airline Division has formed a Steering Committee to create a Pilot Peer Assistance group for all our Union members.
The initiative is called Crewmembers Helping Other Crewmembers Keep Safe (CHOCKS). CHOCKS is designed to assist pilots and their families across all Locals of the Airline Division by providing resources to help in their well-being.
The Peer Support efforts will focus on education and understanding the difference between being stressed- but functioning and stressed to break-down.
The CHOCKS peer support structure provides individuals a place to turn to in order to share their issues with trusted peers in as close to a non-threatening environment as possible; allowing for early intervention and a positive culture of speaking about mental health.
The interest is to ensure crews are not suffering distractions from "common troubles" of life, which might result in accidental – but potentially hazardous – slips during flight operations. To list few of the stressors or "common troubles" in life; Depression and Grief, Divorce, Chemical Dependency, Stress, Anxiety, Financial, Parenting, a Sick Child or Spouse, Suicide, Domestic Violence, Emotional, or Elder Care.
Since none of the peer support volunteers are professional counselors, CHOCKS is simply charged with providing resources to the problems our pilots undergo in order to provide a plan of action. Sometimes acting just as a confidential and active listener can help, but, if the circumstances merit further action, then we can suggest contacting the appropriate resource to help address the source of the stress.
The steering committee is working diligently to develop the CHOCKS program and the needed resources. Committee members Roy Liggett, Local 1224 Human Factors Coordinator, Captain Janina Clark (Atlas Air), Captain Steven York (Southern Air), and Kathy Carl, Consultant (Atlas Air Flight Engineer – (Retired), have all recently attended American Airlines "Project Wingman" training for peer support volunteers in Dallas TX. Crewmembers will be notified of the status of this initiative as it evolves.
Airline Division Representatives attend Aero Engines Americas Conference
The AEA conference was held January 29th and 30th in Dallas. Attending for the Airline Division were Vinny Graziano, National Coordinator MX and Chris Moore Chairman, TAMC. The conference provided a candid look at what is going on in the Engine Overhaul MRO business.
Opening remarks and state of the industry updates were presented by ICF Consultants and discussed the Flying Fleet and Engine Overview and Forecast as well as Mergers and Acquisitions and analysis of Aero Engine trends.
Bloomberg Intelligence provided a macroeconomic outlook of the industry that included Global Markets, Analysis of Geopolitical issues, Fleet Demographics, Oil Prices, Financing and Investor Perspective.
The industry outlook is still strong despite an increase in oil prices. Lower oil prices incentivize keeping older less fuel-efficient engines in service and increases the number of engines to be overhauled. Unfortunately, the lack of available skilled labor and parts are constraining capacity not just in North America but worldwide and although new technologies such as Virtual Training, 3D printing and AI Troubleshooting are helping to streamline the overhaul process the fact remains that there are just not enough skilled mechanics available to cover all of the work.
Look for a more detailed report on this conference in the March 2019 TAMC newsletter.
Airline Industry News
Governmental and Regulatory
A bipartisan group of US lawmakers have introduced a bill that would require all commercial aircraft operating in the US be
retrofitted with secondary cockpit barriers to prevent terrorist attacks similar to 9/11.
US carrier
Kalitta Air has called for sanctions on the Dutch government, Schiphol and Stichting Airport Coordination Netherlands (ACNL), alleging its slots were "wrongfully withheld".
Two key US lawmakers overseeing federal transportation policy have introduced a bill that would keep the FAA fully funded during any future
Airlines, Industry and Labor
The
Boeing 747 has been an iconic piece of the airline industry since its introduction in 1969, and still serves today, largely as a freighter for cargo carriers around the world. "There are other very capable aircraft on the market, but no other aircraft in production can match [the 747's] massive capacity, range and efficiency," said UPS freighter captain and program manager Doug Menish.
As Amazon continues its meteoric rise into the e-commerce stratosphere, the company's relationship with the well-established integrators, like FedEx, UPS and DHL, have been relatively cordial, as Amazon has long relied on the express companies' vast networks of last-mile options to deliver goods in a timely fashion.
However, according to the latest annual Form 10-K statement filed with the Securities and Exchange Commission (SEC), there has been a subtle, but crucial, addition in Amazon's description of its competitors that may give pause to the likes of FedEx and UPS. Under the section titled "Risk Factors," Amazon describes how it faces "intense competition" from a long list of entities. This year, for the first time, the company includes "transportation and logistics services" on the list, suggesting that Amazon will be focusing more of its attention on supply chain logistics this year.
Alaska Airlines' board of directors has elected John Ladner, an active pilot, as vice president of flight operations, effective March 1. Horizon Air's board appointed Brooke Vatheuer as senior vice president of operations and planning.
Airbus announced Feb. 14 it is terminating the Airbus A380 program in 2021, after Emirates
cut back the last major order to just 14 A380s, instead of the 53 it had on firm order.
Easyjet and Delta have confirmed they are in discussions with Italian state railway firm Ferrovie dello Stato Italiane (FS) about a potential consortium bid to run a restructured Alitalia.
« Previous
Next »