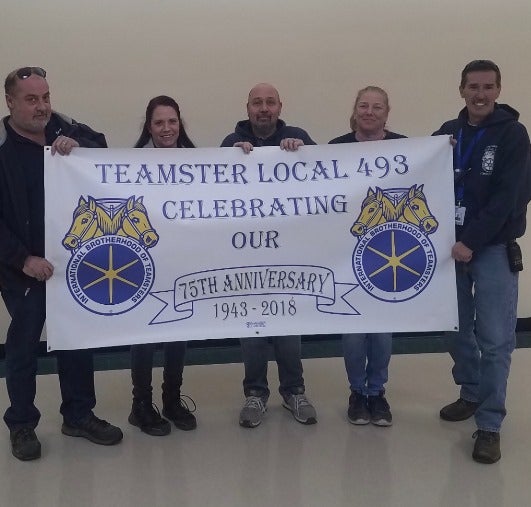 Teamsters in Connecticut rose to the challenge when their school was significantly damaged due to a fire two weeks before the start of the 2018 school year. Within a matter of nine days, members of Local 493 accomplished an almost impossible task and the students only missed one day of school because of the dedication of these men and women.
A fire at Plainfield Memorial School on August 15 caused significant damage to a portion of the school and extensive water and soot damage to the majority of classrooms.
School officials secured an interim site but the facility needed substantial renovations. That's where the Teamsters came in.
Local 493 represents a group of around 30 custodians who all went above and beyond the call of duty to ensure children had a place to go to school. The custodians, support staff and IT technicians renovated the facility. At the same time, the community and region offered further support.
"There was an old high school that hadn't been used for anything but storage for years. Every classroom was top to bottom with furniture and dust and garbage. The superintendent told us we had seven days to get the school ready. I said, 'No problem. We won't let you down.' And we didn't," said Paul Kudelsky, the chief steward who has worked there for eight years.
Bevan J. Sweet, President of Local 493 and business agent for the group of workers, said it's a newly organized group that had been an independent union but chose to affiliate with the Teamsters.
"It has been a great group," Sweet said. "They're organized, tight-knit, and whenever we have a meeting, they're all there. I'm not surprised that these Teamsters went above and beyond to make sure these kids had a place to go to school."
Kudelsky said getting the old school ready for students wasn't just a matter of moving furniture. They also had to have the building up to code and safe for students.
"We were rotating guys on 12-hour shifts of cleaning and scrubbing and moving stuff. That's what Teamsters are supposed to do: Get in there and get things done," said Kudelsky, who coordinated the cleanup. Kudelsky did such a great job with leading the cleanup that he was named school employee of the year, an honor that usually goes to teachers.
"They awarded it to me but it's for all of us who helped out," Kudelsky said. "It wouldn't have happened if it wasn't for the whole group of Teamsters that got this done."
« Previous
Next »