Uncategorized
House Panel Lawmakers Rally Behind Pension Fix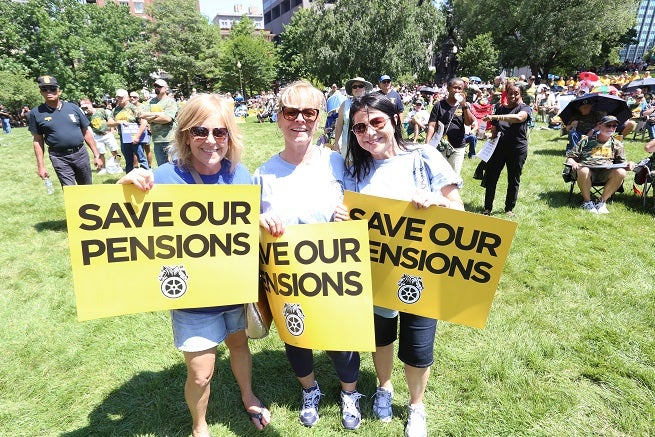 For the second time this year, a House panel on Thursday took a deep dive into finding a solution to the nation's pension crisis, with several lawmakers and witnesses raising concerns about how retirees and workers will be able to support themselves if several such retirement plans are allowed to go bust.
The House Education & Labor subcommittee focused on addressing the dire state of multiemployer pension plans in its hearing, an issue close to the Teamsters due to the failing condition of its Central States Pension Fund. House Health, Education, Labor, and Pensions Subcommittee Chairwoman Frederica Wilson (D-Fla.) said a bipartisan legislative fix is critical not only for those directly affected, but the nation as well.
"If retirees see their retirements cut, they will be increasingly reliant of social safety net programs funded by taxpayers," she said. "At the same time, there will also be a loss of tax revenue. So we should be mindful of the cost to taxpayers if Congress does not act."
If at-risk multiemployer plans were to fail, estimates show the federal government would lose up to $103 billion in tax revenue, and would need to increase social safety net spending by $138 billion over the next decade, Wilson said.
It is because of those numbers that Congress must intervene. The Teamsters support H.R. 397, the Rehabilitation for Multiemployer Pensions Act. In a letter sent by Teamsters General President Jim Hoffa to House Education & Labor Chairman Bobby Scott (D-Va.) this week, he noted the bill provides a pathway to pension security.
"H.R. 397 will ensure that we meet our obligations to current retirees and workers for years to come and do so without retiree benefit cuts," Hoffa wrote.
Rep. Haley Stevens (D-Mich.) agreed, noting there are more than 3,000 Central States participants in her district covered by 102 employers. She lauded the work of the union for fighting to come up with a solution to the problem, and is a co-sponsor of the bill.
"Doing nothing will mean plans will fail," she said. "Businesses will fail. Employees will get zero of what they have earned, and taxpayers will end up paying for it."
Workers also back the legislation. James Morgan, a former Hostess Bakery employee and union member who was forced out of work when the company closed in 2012, said he and others contributed to their pensions with the understanding that they would have security in retirement. The bill, he said, would protect their futures.
"My pension benefits have not made me rich, not at all," he said. "But my pension check is the only way I'm able to make ends meet. If I lost those benefits, or those benefits were cut, it would be devastating."
Rep. Donald Norcross (D-N.J.), a co-sponsor of H.R. 397, said workers are being left out to dry on this issue. "There are so many issues surrounding this. It can become complicated," he conceded. "But if we do nothing, the system crashes, and it takes down virtually everyone along with it sooner or later."
« Previous
Next »