Uncategorized
Local 492 Helps N.M. Unions Thwart RTW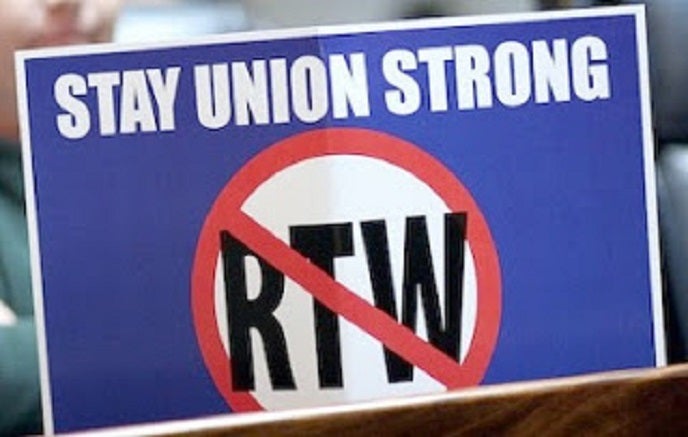 Teamsters Local 492 played a major role at the state Capitol in Santa Fe in the recent passage of a law by the Legislature that thwarted an insidious scheme by powerful national anti-worker groups to destroy organized labor in New Mexico.
The law, signed recently by Gov. Michelle Lujan Grisham, prohibits counties and villages in New Mexico from enacting so-called right-to-work (RTW) laws, union-busting measures that depress wages and working conditions and reduce labor's strength in collective bargaining.
Attempting to enact RTW county by county is a devious new plan promoted by groups such as the National Right-to-Work Committee, the Koch Brothers' Americans for Prosperity and the Rio Grande Institute.
In New Mexico, Americans for Prosperity has been the most vocal supporter of local county efforts to impose anti-worker policies on their communities. Past similar efforts in Kentucky and Illinois raised legal questions with national implications about the power cities and counties have under federal labor law.
"It was a great victory for the union movement in our state," said Walter Maestas, Secretary-Treasurer of Local 492. "It was vital that this plan be stopped in its tracks."
Tracy McCarty, Local 492's political coordinator, directed the Teamsters' lobbying effort in unity with all other New Mexico unions. "We recognized the danger, and responded immediately and forcefully, and our efforts paid off," said McCarty, who attended Grisham's recent bill signing.
The debate started more than 15 months ago, when Sandoval County successfully passed a RTW ordinance after long, contentious public debates.
Soon after the law was enacted, 12 other counties and villages followed suit. However, the Sandoval County law was immediately challenged in court by the International Brotherhood of Electrical Workers (IBEW). The court action effectively halted implementation of the law in the counties.
The main purpose of RTW is to undermine union strength in negotiating with employers, and, with fewer workers in the unit, making it easier to completely eliminate the union.
On average, workers in RTW states earn more than $5,500 a year less than states without such laws. Right-to-work states also spend less on education and have higher workplace fatality rates.
Some 78 percent of private sector union workers have access to medical care through their jobs, compared with only 51 percent of nonunion workers. And 77 percent of private sector union workers have access to guaranteed retirement plan through their jobs, compared with 20 percent of nonunion workers.
A union member's "right-to-work," as interpreted by the RTW gang is the "right-to-work for less."
« Previous
Next »